Proxy Switcher lite is a free app in Windows which lets you easily choose between proxy servers without having to open the settings panel. It also provides you with a lot of solution related to proxy settings management and anonymous surfing capabilities. This basically works by anonymously connecting you to internet connection by adding proxy servers to the program. The interface of this app is designed in a very beautiful and attractive way. It is a user-friendly app. A screenshot of this app is shown below: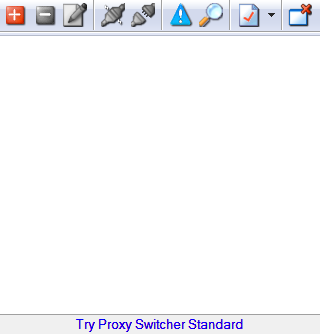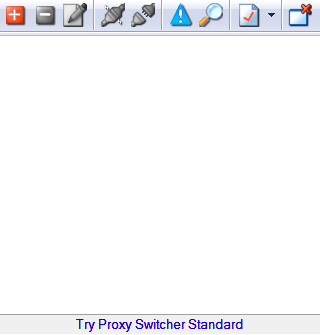 How to use this app
Once you have installed this app in your Windows machine and run it, a window like the above screenshot will pop-up. The moment you click on the (+) icon, a new window like the below screenshot will appear asking you to add a new proxy for your browser.
Now, if you are willing to remove any already created proxy, you can remove it by using the (-) icon present just right to the Add button. The next icon is the Edit Proxy settings using which you can edit any pre-existing proxy. You can switch to one proxy to another using "Switch to selected proxy server" and if you are willing to not use any one of them, you can simply click on the "Direct connection". There are other options too present in this app like: searching of any proxy server from the existing servers, setting global exclusion list.
How to set different things in the settings option
Proxy Switcher lite also provides you a settings option in which you can change different things according to your own desire.
You can see yourself the different settings option in the above screenshot. All you have to do is to go through the different choices present at you and select or unselect them according to your own choice. You can also adjust here the internal proxy as well as Network in the scanner by just going to the website link provided after clicking on each and downloading them.
Key Features of this app
This app is lightweight and takes a very little space of memory.

It integrates itself with too many browsers automatically.
It has basic as well as advanced proxy settings.
It lets you keep your private information safe and secure over the internet.
How to get this app
You can get this app from Windows App store or you could find it at the link Proxy switcher lite and could download it from here.
Conclusion
Proxy Switcher lite is a handy and reliable utility designed to enable you to create a list of proxies and easily switch between them. It is used for all anonymous browsing needs. You can also hide your identity while browsing over the internet using this app. Thus according to me, it is a must try app.