Windows 10 possesses a more aggressive look in comparison with its lower versions. Microsoft has mainly focused on its desktop to make a better appearance of Universal apps. Universal apps are nothing but Modern apps that run on the desktop. On Windows, you can open these apps in resizable mode on your desktop.
Even you can now work with the apps on your desktop in the same manner as you are accustomed to working on applications like paint, file explorer, etc. These applications render the option to Minimize, Restore, or Maximize, and Close buttons. Here we are writing Windows 10 tips for how To bring Universal Apps in Full Screen Mode in Windows 10 to view it easily and broadly, back to normal, minimize and maximize. Follow the steps to use this feature.
You may like to read:
Windows 10 – How to Write Formula in Math Input Panel
How to Display Universal Apps in Full Screen mode on Windows 10
The first thing is you must have the latest version of Windows 10 on your PC. Then
1. Open PC settings from the start menu. Now you will see three dotted lines which is called Options button on the left side of the title bar. Tap on the same.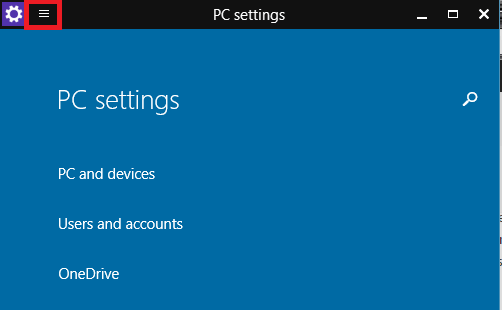 2. Press the Full Screen option. Then this app will be displayed in full-screen windowed mode. That's it.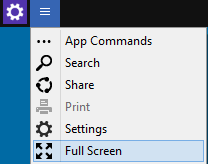 Note: When you turn the universal app into full-screen mode then it will not for always. When you open this app next time you will see it in a usual mode.
How to Exit Full Screen mode in Universal Apps on Windows 10
1. If you have opened an app like PC settings in full-screen mode then move the cursor on the title bar and again tap the Options (three dotted line) button. Choose the Exit Full Screen option and tap the same.
2. You have also another way, move the cursor on the top of the window to show title bar and click on the Restore Down button to the right side.
3. If you need to minimize, click the App icon on the taskbar and to maximize it again tap the icon again.
4. Also, start Task View and press on the app's icon on Taskbar or Live thumbnail preview like in the given screenshots: