Download InstaTwit – Lately many of us experienced Instagram service on our Twitter Accounts. As you know Instagram is Facebook owned photo service. Increasing complaints, regarding cropping images and view on Twitter webs, forced to disintegrate Instagram service on Twitter.
Indeed, the decision like disintegration of Instagram service on Twitter hearts sentiments of the most regular follower. The Situation like this prompts users to find appropriate solution. In way of finding solution to bring back Instagram Images on Twitter webs, 'InstaTwit' application released. The 'InstaTwit' effectively works with Google Chrome browser. The Remaining part of this particular article explores 'its features and process for installing on Chrome browser.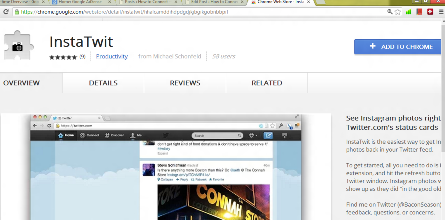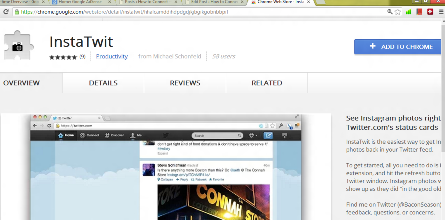 Mentioning above 'InstaTwit' is an extension which works only on Chrome browser. It helps users to bring back Instagram images in your Twitter Timeline. The same experience, you got before disintegration, could rediscover once you install this application on your Chrome browser. Though, you may put all your Instagram Images with help of IFTTT shortcut. But chrome extension lets you bring images of Instagram on Twitter timeline so easily. After expressing features of InstaTwit, I am going to show the way of installation it on Chrome browser and how does it function?.
How to Download InstaTwit to bring Instagram Photo back
To install this application on Chrome, you are required to access Chrome Web Store. Then after select particular extension to install. Albeit, you may grab the downloading link of the app from the bottom of this article. Now the question of functioning remains.
Once you install 'InstaTwit' extension, it is required to tap on Refresh button on your Twitter Window. Above act shows all Instagram Photos on your Twitter Timeline page.
Finally, Get from here  (Chrome Extension).