Four Offers is a beautiful app of Windows 8 which provides you the best offers in your locality. These deals consist of all basic things whether it is food, dining, going to a concert, buying electronics, beauty and style, automotive shops, books store, yoga studies etc. This app integrates with the Foursquare website, which is also a location-based social networking website for mobile devices and helps you in finding the best deals to buy. Along with this, you could also get access to see images related to the above mentioned things and comment on them. Once you found it useful, you can share this with your friends too.
The user interface is spruce and elegant, and as it seems from its appearances, you can easily see that a lot of work has been put in the development of this app. The developers have made sure that everything is placed in its right position so that users find it very smooth when running this app on their windows machine.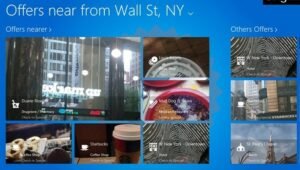 This beautiful app of Windows 8 could be accessed using Windows charm settings(Win+I) or it could be simply got from Windows 8 App Store under the social category. You could also get to it from the link provided at the last of this article.
Find Best Offers using Four Offers App
Install Four Offers app on your windows machine once you have downloaded this app on your windows machine. Installation is the same as the other features of Windows 8. It is a handy application taking a very little memory of your system. Downloading various things here is quite simple and easy. The tiles present in its homepage are enough to give you a brief description of various deals offered nearby. It consists of images which are related to the goods, shop's name who is selling it, category i.e. whether it is a normal shop, electronics, restaurant, etc.
Once you have Four Offers app in your windows machine, you could see a window like the above shown screenshot. On the left panel where you could see all the best offers in nearby shops. In the right panel, it shows all other offers. This app doesn't require any sign up or registration. You can search for the best deals just by typing the address of a location manually. To search for the best deal across your location, just click on the drop down arrow where you could see a Text Filled and Globe Icon. Click on any of these two. Doing so, this app would figure out your location and finds all the deals nearby and presents before you. Just Look over it and decide which one is your best deals of all the different deals floating in front of you.
Text Filled provides you the best features on the basis of your filled in location or any particular shop. Globe provides you the relative results under the two labels Offers Nearer and Other Offers which are arranged in completely random sized tiles. Clicking on any tile/result would provide you more details about that thing. Once you like any deal, just go there and shop for your best deals. This is really a new completely exciting experience.
Key Feature Of this App 
Fully Free App with lovely Interface.
 Integrated with Windows 8 Charm Facility.
Provides Good Deals across your location.
Also provides you the option to manually search any place for best offers.
Internet Connection is necessary.
This app is lightweight.
View the location on Bing map within the app.
Gives you certain tips on different offers.
You can see different photos and share them too.
 Conclusion
Four Offers is a good app which helps you in getting the details of various stuffs across the streets where you live. It provides you the best deals offered there. It gives you the best opportunity before the deal slips away. It is a new application in the market and hence it offers fewer results. It might increase the number of deals in the near future. It is really a handy app providing you a nice place to buy different kinds of stuff. It lacks some features like search charm, pin to start screen. Overall this is a nice app to try on.