PAN refers to Permanent Account Number, which is issued by Income Tax Department of India. It a plastic card that shows Name & Photo of taxpayer including Specific PAN Number.
Every taxpayer either an individual or Firm must have a PAN Card to pay their Direct or Indirect Taxes. Nowadays, it has become as most reliable identity source of particular person or firm. Undoubtedly, it is most important Card, which could be used for ensuring Identity, as well as finalizing financial deeds.
Here, it is a big question how to get PAN Card easily? Surely, someone suggests you to approach reliable agents and argue them to make available your PAN. But, I think a different way. While Online applying facility is provided by Income Tax Department regarding making own PAN Card, so there is no any need for third-party involvement.  Persons looking to apply online for getting their PAN Card may take successive steps.
What to do?
To apply for PAN Card, you need to fill 49A Online form, which is available at website of Income Tax Department, Govt. of India. Point-wise details show every step: –
For PAN Application form, Type the web address
https://tin.tin.nsdl.com/pan/index.html
in the existing browser.
Click on 'Online application for new PAN (Form 49A)

Now, choose applicant's category as an individual from the drop down list.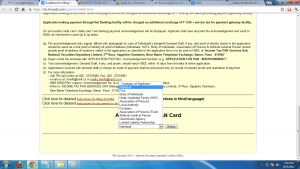 Then after Online application form will be displayed.
Put all information quite clearly. But some confusion will raise during filling details of Assessing Officer (AO). You have to click the adjacent link of suitable option after then fill the information related to Assessing Officer.