Are you facing issues with the recent Windows 10 KB5030211 update for the 22H2 version? Wondering why it failed to install or got stuck during the download process? You're not alone. Let's delve into the common problems and explore some troubleshooting steps to get your Windows 10 update back on track.
Released as part of the September 2023 Patch Tuesday, KB5030211 is designed to enhance your system's security and performance. However, like any software update, it can encounter hurdles along the way. Slow internet connections, incomplete downloads, incompatible hardware or software, and insufficient disk space are some of the usual suspects causing installation hiccups. But fret not! We've got you covered with a range of solutions. From running the Windows Update Troubleshooter to freeing up disk space and even performing a clean boot – there are steps you can take to resolve these issues which are mentioned in this blog after careful consideration. See: Fix KB5029244 Failed to install with Error in Windows 10 22H2. Now, let's go through the guide:
KB5030211 Failed to Install in Windows 10 22H2
Here is how to fix KB5030211 Failed to Install in Windows 10 22H2:
Run Windows Update Troubleshooter
First and foremost, solving the issue of KB5030211 failing to install with error codes on your system demands you to use the Windows Update Troubleshooter. This application is designed to identify and rectify common issues that may be preventing effective installations.
Go to Settings > Update & Security > Troubleshoot.
Select Windows Update.
Then, click on Run the troubleshooter.
It will diagnose and fix issues, clear the cache, and check for updates.
Restart your computer and check for updates again.
Read: Use Common Windows Update Troubleshooter on Windows 11, 10, 8.1, 7
Manually Install the Update
Taking control of your Windows updates can be one of the best possible options for resolving the aforementioned problem. Manual installation can play a crucial role so follow the steps mentioned below and ensure your system stays secure and up-to-date, on your terms.
Visit Microsoft's Update Catalog.
Choose the version that matches your system specs.
Download and install the matching update.
Restart your system.
Clear Your Disk Space
Another way to fix this troublesome update error is to perform disk cleaning as it will remove any unwanted files and free up some disk space. The steps to be followed are as follows:
Press Win + S and search for Disk Cleanup.
After selecting, choose your drive (usually C:).
Focus on Windows Update Cleanup and other sections like Temporary Files.
Select OK to clean the selected categories.
Run SFC Scan and DISM Commands
It's time you unlock the power of advanced tools such as the SFC Scan and DISM commands in order to tackle the KB5030211 failed installation error. These tools go beyond simple troubleshooting, playing crucial roles in fixing issues with your Windows system.
DISM, or Deployment Image Servicing and Management, is your go-to for repairing problems in the core Windows image, ensuring it's free from defects. Meanwhile, the SFC Scan, or System File Checker, specializes in handling corrupted files that might be causing trouble. Thus, follow these steps:
Open Command Prompt as administrator.
Type the below command and press Enter: SFC /SCANNOW
Wait for completion.
Execute the following command lines sequentially.
DISM /Online /Cleanup-Image /CheckHealth
DISM /Online /Cleanup-Image /ScanHealth
DISM /Online /Cleanup-Image /RestoreHealth
Stay for the process to finish.
Restart your PC.
Reset Windows Update Components
Fixing the issue may require resetting Windows Update components. As corrupt or incorrectly configured Windows Update components may slow down the update procedure.
Open Command Prompt (Admin).
Copy and paste the following commands, then press Enter for each:
net stop bits
net stop wuauserv
net stop appidsvc
net stop cryptsvc
Del "%ALLUSERSPROFILE%\Application Data\Microsoft\Network\Downloader\*.*"
rmdir %systemroot%\SoftwareDistribution /S /Q
rmdir %systemroot%\system32\catroot2 /S /Q
regsvr32.exe /s atl.dll
regsvr32.exe /s urlmon.dll
regsvr32.exe /s mshtml.dll
netsh winsock reset
netsh winsock reset proxy
net start bits
net start wuauserv
net start appidsvc
net start cryptsvc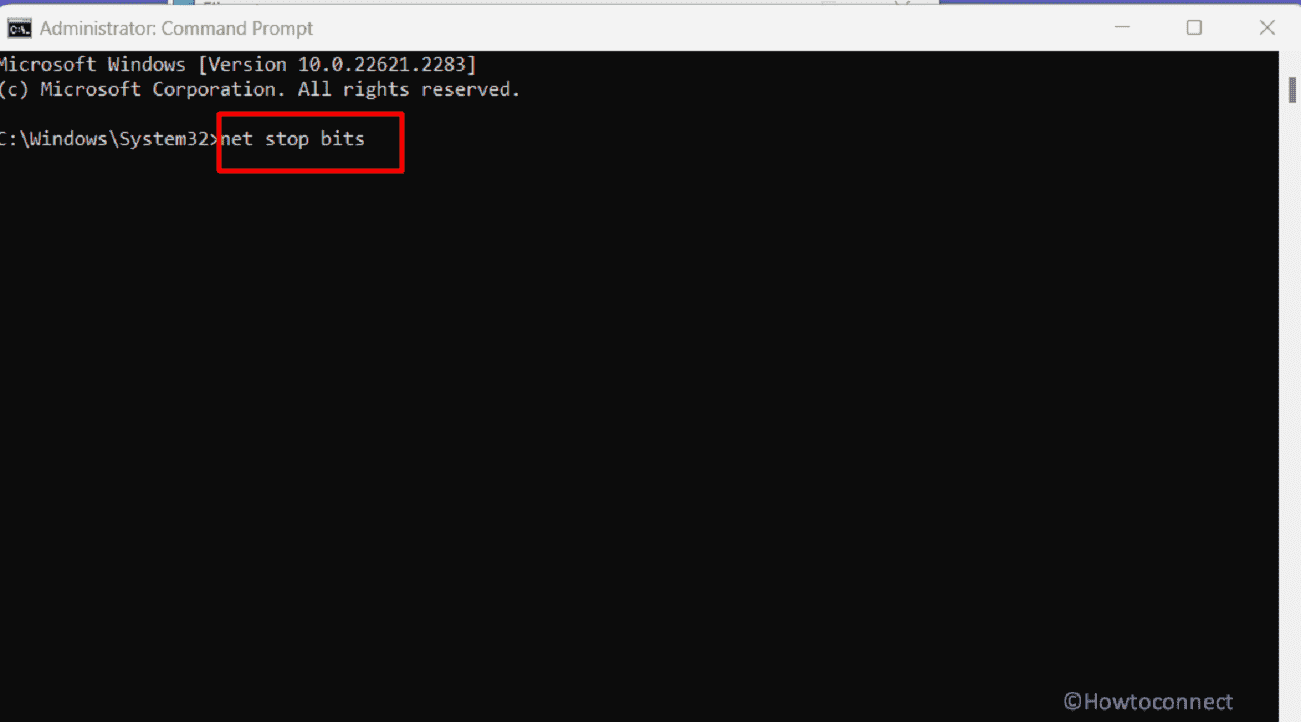 Restart your PC.
Go through: How to Reset Windows Update to Default in Windows 10.
Restart Relevant Services
Services may be thought of as the unseen hands behind your computer's operation. Restarting several essential services, especially those related to updates, will often fix the installation error difficulties in your Windows 10 22H2. If you follow the steps, installing the update shouldn't be too much trouble:
Type Services in Windows search and press Enter.
Find Background Intelligent Transfer Service (BITS).
Right-click and select Restart if it's running.
If not, double-click it, and set Startup type to Automatic.
Click Start, then Apply, and OK.
Repeat for Windows Update and Cryptographic services.
Temporarily Disable Third-party Antivirus
Think of your third-party protection as a guard who is always watching over your system. But even the most careful security software can sometimes get in the way of Windows Updates and cause errors like KB5030211 failed to install.
Find the antivirus icon in the system tray.
Right-click on the icon.
Look for an option to Disable or Pause the antivirus and select it.
Set a time frame (if available) or choose Until I turn it back on.
Confirm your choice.
Install the Windows update.
Re-enable the antivirus after the update is installed by right-clicking the icon and selecting Enable or Resume Protection.
Use Media Creation Tool
When Windows upgrades pitch a curveball, Microsoft's Media Creation Tool is your solution. If the abovementioned ways aren't working, this program can settle the KB5030211 failed to install troubles in your Windows 10 22H2. Let's get started and see how it's done!
Download Windows 10 installation media from Microsoft's website.
Run the installer as an administrator.
Agree to the terms and click Next.
Choose Upgrade this PC and click Next.
Follow the onscreen instructions and Restart your PC when finished.
Check Internet Connection
If you are yet to find a probable solution for the KB5030211 error code refusing to then, there is no harm in ensuring that your internet connection is up to the task. Follow these steps:
Switch off the router and stay for 10 or more seconds.
Turn on the device, connect to the internet again, and then check for updates.
If the internet connection is not working or creating any severe issues then reset it:
Press Winkey+I.
Click on Network & Internet.
Go to the right side of the Settings page, scroll down, and click on Advanced network settings.
Select Network reset.
From the next screen, click on Reset now.
A confirmation dialog will be shown; select Yes.
After the process is completed, try to install it once again.
Reference: How to Reset Network Settings to Default in Windows 10.
Clear Windows Update Directory
When you know your internet is working fine, then, there's another trick up your sleeve to resolve the KB5030211 failed to install issue. It involves resetting the Windows Update Directory, essentially sweeping away old update files and fetching fresh ones from Microsoft's server. Here are the steps to do it:
Press Windows + R.
Type services.msc and click OK.
Open the Windows services console.
Locate the Windows Update, right-click, and select Stop.
Go to C:\Windows\SoftwareDistribution\Download.
Delete all the files and folders. Don't worry; fresh files will be downloaded from Microsoft.
In the services console, find Windows update service, right-click, and select Start.
Open Windows Update Settings and check for updates.
Change Alternate and Preferred DNS
You might want to tweak your alternate and preferred DNS settings. Making adjustments to your concerned settings might just be the solution you need to clear out the update error. Here's how to go about it:
Press the Windows key + R.
Type ncpa.cpl and click OK.
Right-click the active network adapter and choose properties.
Select Internet Protocol version 4 (TCP/IPV4) and click properties.
Choose the radio button and set the Preferred DNS server to 8.8.8.8 and the Alternate DNS server to 8.8.4.4.
Alternatively, use 1.1.1.1 and 1.0.0.1 for Cloudflare. Click OK.
Retry Windows Update.
Methods:
Run Windows Update Troubleshooter
Manually Install the Update
Clear Your Disk Space
Run SFC Scan and DISM Commands
Reset Windows Update Components
Restart Relevant Services
Temporarily Disable Third-party Antivirus
Use Media Creation Tool
Check Internet Connection
Clear Windows Update Directory
Change Alternate and Preferred DNS
That's all!!
Repair any Windows problems such as Blue/Black Screen, DLL, Exe, application, Regisrty error and quickly recover system from issues using
Reimage
.