Look Your Way is again a puzzle gaming app like the Asher's Maze and Pacman. This is too a free Windows 8 app. All you have to do in this game is to reach to the final red colored circle by moving out your red colored egg by controlling yourself from the boundaries and other blockages. You should also have to save yourself from the guards moving out there in between the path freely. Look Your Way is a very simple and straight and enjoyable game checking how quickly you can make the decision when some obstacles continue to come and hinder your thought. This game could also be played without internet connection.
The interface of this game is kept very simple as similar to that of normal maze game app like Pacman etc. It is a very lightweight game consists of only a single level which might seem to be a drawback. A screenshot of this app is shown below: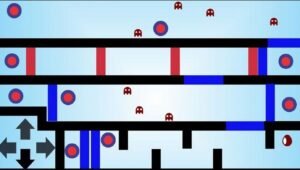 ,
A link has been provided at the last of this article from where you can access Look Your Way App.
How to play Look Your Way game App
Once you have installed Look Your Way app on your windows machine using the link, a window will pop up like the above shown screenshot. Here, the image might resemble to that of Pacman. This is a very simple game and it won't kill much of your time like the normal game does as it is finished in a few minutes. Look Your Way game has been designed to give you a mind fresh or relief when you are tense of doing normal stuff. Like the way, in Pacman game you used to run your mouse from the cat coming after you and you have to eat all the power, in this game to you have to do the same. The only difference here is that you have to run through a maze. In more logical sense you can say that it resembles of Asher's Maze game. There are guards here to catch you instead of normal cat. you have to be very careful during the entire game as the number of guards here in this game is more. There is also another condition here and that is you don't have to touch the boundary of this game too otherwise the game would end at that very moment.
There is no time limit set for Look Your Way game, so all you have to do is to be alert and play this game with proper caution. In each mistake, all your progress would be vanished at soon. The game can be controlled basically by all the four keyboard arrows keys. Using this arrows key, you have to control yourself i.e. the Red Egg. The game has been designed in 2D still you will love it. There is proper sync between the controls and the actions performed so that you don't feel the irritation. There are blue colored bars out there for your blockage. Just play this game with a little patience and you will reach the final destination i.e. Red Circle along with scoring the maximum points.
Key Features of  Look Your Way game App
Available for completely free.
Good Graphics.
Interesting and fun gaming app.
Can run in offline mode too.
Available for all different Windows 8 devices.
Final note:
Look Your Way is a fun and interesting gaming app which can be used during free time. The gameplay of this app is very simple but adoring. You might feel that there should be more levels are there in this game, still this is a very good strategy to start in the first place. I personally feel this game very lovable.