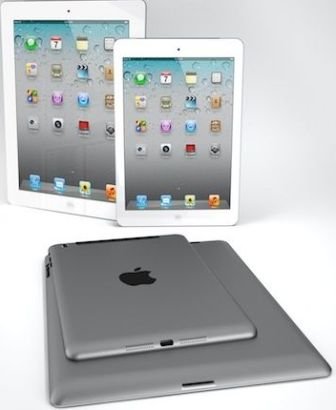 Apple has introduced relatively smaller & well equipped 'Mini iPad' into its world class product kitty. The new 'Mini iPad' is introduced to provide the best alternative to users possessing smaller Tablet devices. Certainly, Apple's move would increase fair competition between smaller Table market and Apple Mini iPad and through competitive effort users could get chance to choose certain devices, which suit their activity. Moreover launching, it has advanced earlier iPad and iPad 4 too. Next paragraphs would derive iPad Mini Features as well as its pricing.
iPad Mini Features 
As far as features concerns, it has lots of uniqueness than other marketing 'iPad' products. The mini 'iPad' comes in 7.9 inch displaying outfit lesser than earlier 9.7 inch iPad display. When comparison made to similar Android Tablets, the 'Apple Mini iPad' comes among third larger screen displaying devices. The newly product is 53 percent lighter and 23 percent thinner than iPad 3. The It is supported by Dual core A5 chip for better processing results. Face Time HD camera, 5 mp iSight Camera at back are another attractive features of 'Apple Mini iPad'. These features allow to record 1080p HD video with easiness through this multifaceted product.   The Lightning connector empowers battery of the iPad to be functional as longer as 10 hours.
iPad Mini Pricing
The iPad Mini is available in many model as 16 GB, 32 GB and 64 GB. It also available in both Wi-Fi and Wi-Fi + Cellular features. Since, it comes in variety of model and inherent features so pricing vary to one another products. At entry level is available for $329 of Wi-Fi 16 GB model. 32 GB Wi-Fi model is available at $429 and 64 GB Wi-Fi model is priced for $529. It Wi-Fi + Cellular features worth is more than Wi-Fi version. It is also available in 16GB, 32GB and 64 GB model and consumers will have to pay $459, $559 and $659 respectively to get these 'Apple iPad Mini'.
Note: Just remember Apple iPad Mini needs only Nano SIM Card. It does not support micro SIM cards. Users may put their orders for getting its Wi-Fi version onward 26th October 2012. Hopefully it's shipping would be commenced onward 02nd November 2012.