Early we have discussed the new Browser Edge which has been introduced in Windows 10 Consumer Preview by Microsoft. But this browser does not start straight forward on this build. You need to make iSpartans browser working on your Windows 10 build 9926 through a quick tip. Actually, Windows 10 has forwarded us with two browsers: one is Internet Explorer for legacy business users which you have been tested before and other is a new browser code Spartan rendering engine. This browser is more efficient, standards and convenient to use on your Windows as in comparison with Internet Explorer. This browser will surely let you work fast and consume least data. Recently we have written on Cortana which will help you to access and use it.
If you think to enable Spartan new browser on your Windows 10 PC then you have to not go through complicated process although you have to undergo a very short process which we will write below.
How to enable Spartan on Windows 10
Note: You have to notice that Windows 10 Technical Preview build 9926 should be available on your PC and then follows the simple tips.
1. Go to the desktop on Windows 10 under build 9926.
2. Launch Internet Explorer as usual.
3. In the Address bar of Internet Explorer write about: flags and Hit Enter.
4. Mark the check box Enable below the Enable Experimental Web Platform Features label.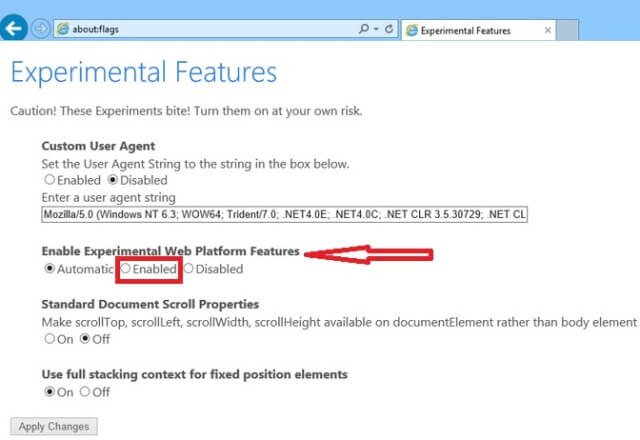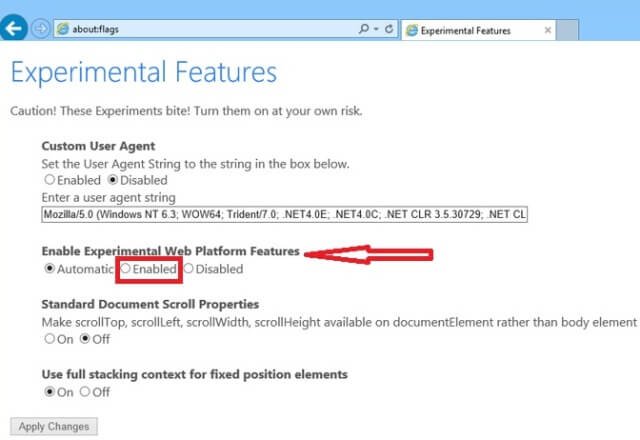 5. Finally, hit on Apply changes button. Restart the Internet Explorer browser again to save the changes.
That's it.
Spartan Vs Internet Explorer
Although you will get more features in Spartan new browser that make it better than IE. Spartan rendering engine also gets an Edge because it is excess thin as stripped down version.
Web page annotation with OneDrive sync: You can illustrate web pages and also leave comments as Word documents with an active stylus, touch, or type. You may sync the results between devices using OneDrive on the Spartan.
Cortana integration: Cortana is also attached to spartan which makes it easier to find something online.
Improved distraction-free reading experience: Reading mode in Spartan is included as mainstream with few new utility tweaks. Internet Explorer includes a good reading mode, but it worked only in the Modern version of the browser.
Now you will get the new browser on your Windows 10 version as Spartan. In fact, Spartan is nothing more than IE as it is advanced or modified feature of Internet Explorer of Windows 10 build 9926. Spartan has been delivered to us by Microsoft to test the internet in the new mode.