Due to busy schedule, we occasionally miss out favorite programmes like movies, daily soaps, chat shows etc. To address this issue, We have sites like YouTube, DailyMotion, Google+ and other similar video sharing websites, which offer all such favorite programmes as per demand.  But, we could not find real-time Theater experience at mentioned media. Google comes with a solution to thrill viewer with 'Turn Off the Light' extension.
The Turn Off Light is a Google Chrome extension detects flash, movie and image websites and shows it through bulb icon upfront. You  need to click on bulb icon to Turn Off / On lights and enjoy experience of Theater in your Google Chrome browser. Now, I am going to address rest of  'Turn off the Lights' features as well as process of installation.
'Turn off the Light' extension is placed under Chrome Web store. If you want to install this extension, You need to take these successive steps.
Access Chrome Web Store and then after go for 'Turn Off the Light' application. You may easily access it after Clicking Here.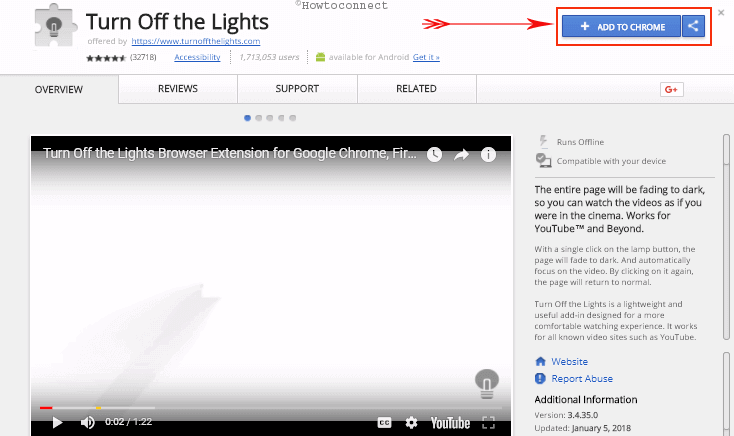 Then after click on to 'Add to Chrome Button' and allow permission to enable 'Turn Off the Light' extension at Google Chrome.

The Google Chrome 'Turn Off the Light' extension supports a number of customization options. User may change  or set any background image  or change Opacity of Color as per your choices.