Windows SmartScreen is a security tool on Windows 10 got from its earlier editions like Windows 7 and 8 to run your computer smartly. When you run Internet on your machine, numbers of websites try to install apps and codes. SmartScreen provides you the weapon using which you could prevent these apps from installing from the web and running on your PC as well. After you enable this security tool, you are asked prior to the installation of an unrecognized application whether you confirm to run this or not.
You can use Windows SmartScreen for better security prospect and restrain and control harmful applications from running on your Windows 10 PC.
How to Enable / Disable SmartScreen on Windows 10
We are describing here 2 tips to Enable / Disable SmartScreen on Windows 10 PC below.
1st Tip
This is a Short Process and you can enable Windows SmartScreen more easily and quickly by using this process.
Open Start Menu and click Control Panel as indicated by an arrow mark in the image.
Tap on Security and Maintenance option.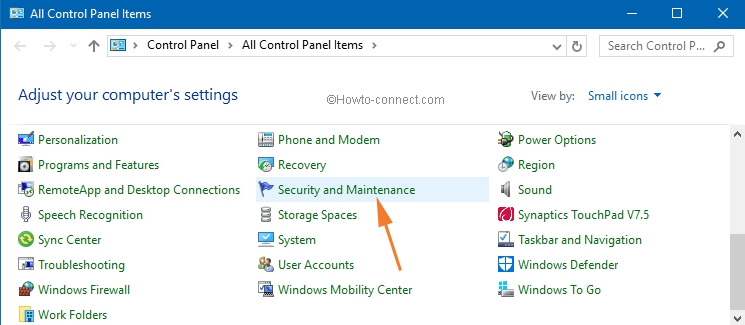 On the left fringe, press / hit the link rounded by a red line in the below-placed image in which written as Change Window Smartscreen settings.
You view pop-up spreads out having 2 choices.
Check the tiny round box beside the first choice and hit OK.
2nd tip: Long Process
Click Security to expand it in the Action Center. Scroll down to find the Windows SmartScreen.
Click the link lying at the bottom Change Settings.
Once more, you view a dialog box containing 2 choices.
Click the first choice to enable Windows SmartScreen and press OK button.
Note: If you check the first option you will get notified before an unrecognized app starts on your PC.
If it is enabled on your PC and you have to disable Windows SmartScreen click on the last choice Don't do anything and press OK.