23Snaps is a collection of the most precious moments of your life. It is a free app available for whole family in Windows 8. It is also available for Apple, Smartphones. This app is accessible on a phone, tablet and computer. This app is developed mainly for capturing the precious moments of your child and sharing them safely and securely to your family members and other special people.  It is a new way of sharing your wonderful pics and cheer. The interface of this app is very attractive and awesome. The interface of this app is designed in a very intuitive way.
You can store all your private photos, videos, and thought at  23Snaps.
Exciting Features of this app
Beautiful interface for arranging pictures: With its incredible look and amazing storage and, videos feature it is really a wonderful and beautiful way to see the precious moments and cherish yourself.
Privacy and Security: This app is very secured and safe for whatever moments you store inside it. Only your friends and family members whom you have allowed can see the stuff stored here.
Extremely helpful: There is no effort required in this app. All you have to do is to register and that too free and can use its amazing and astonishing features without any stop. It automatically places the pictures and videos at their respective place in your albums.
How to own this app
As soon as you open this free app after installing it from the Windows App Store, a window will pop-up asking you to register yourself, make an account of yourself using your email id and password. Once, you own an account, you can simply visit inside of this app.
How to use and play inside this app
A screenshot of its interface is shown below: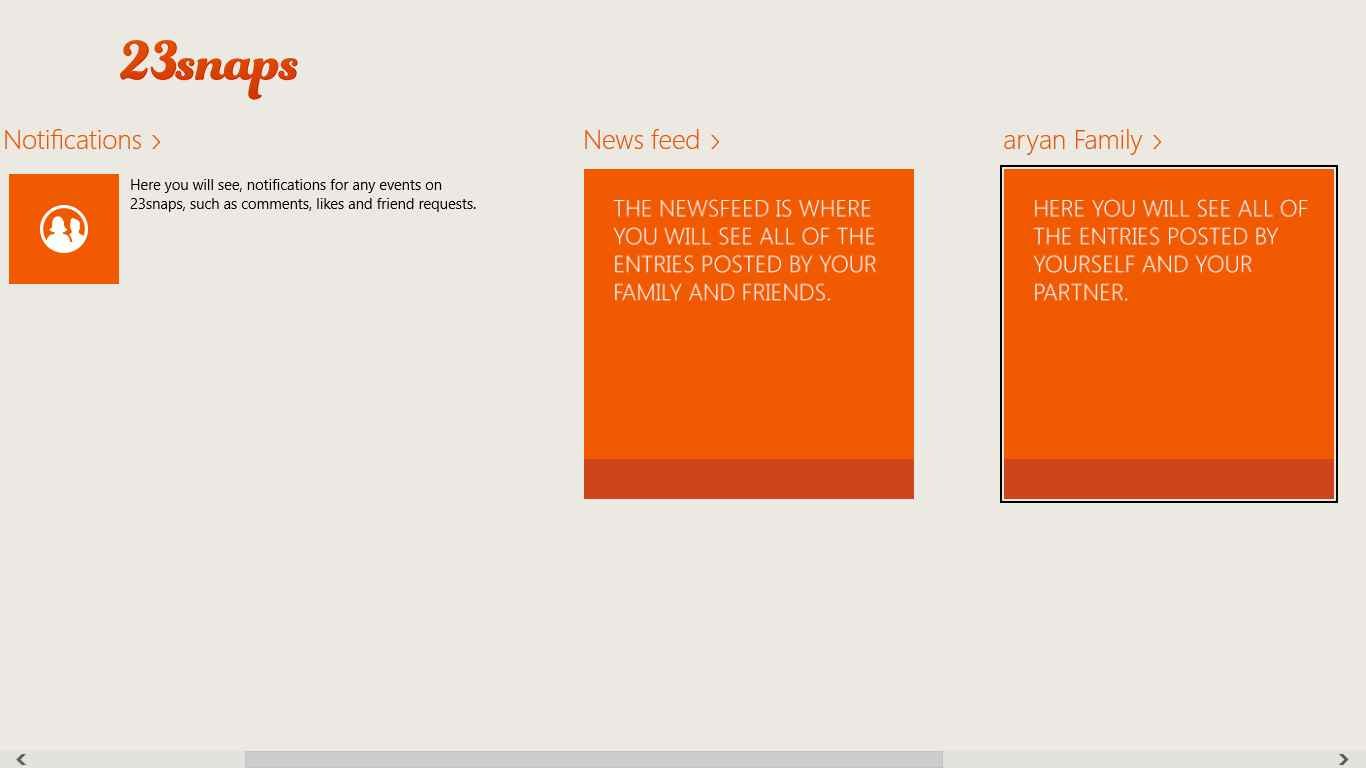 You can see here that you have many options there to entertain and making this app more appreciative. Let me tell you the different features of this app.
Notification

: It is the area where one will see the friend requests, comments, likes, and other relevant notices about others like the pictures uploaded by others, etc. 

News Feed: It is the place where one can see the photos and videos uploaded by family and friends.

Your Family:

Here is the area where anyone or his partner can add pictures, videos, and select among them to be shared. 

Family and Friends: 

It is the place where you will know about the details of your family and friends whom you are connected with. A screenshot of this section is shown below:
Here in the screenshot above, it is shown the various parts of the family and friends section. From here you will come to know about the awaiting friend requests, your partner, and other options too.
Collection: It is the place where you can keep your child's precious moments like pictures, videos, etc. A screenshot of this is shown below:
Firsts is the place where you keep all the pictures of your child when he had begun a new thing. This is all you need to know to get acquainted with this app.
How to get this app
You can install this app from the Windows App store by searching 23Snaps there or you can directly visit its official site Download 23Snaps on Windows 8 PC and have this app installed on your computer.
Conclusion
23Snaps helps you to memorize and cherish yourself by seeing those moments captured by it when your child was tiny and sweet. It creates an online living journal of your child by recording their precious firsts and their wonderful and naughty activities from day-to-day.