Quick Sound Recorder is a free app for windows 8 used to record the sound through your windows PC. It is really a nice app to record Audio sound with an amazing and touching interface. This works like the other Sound recording machine with cutting the noises and making the recordings audible with comfort. A lot of work has been done by the developers on this app. The developers have made sure that no stone has been left unturned to make sure that this app provides a very smooth experience on your Windows PC. It is one of the best Sound recording App for Windows 8.
You can have this app from Windows App Store or from the link provided at the last of this post.
How to use this app
This app has been user-friendly so that no one could have a problem in operating it. As soon as you open this app after its installation, a window like the above screenshot will appear. There is an option of "Record" there. Just click on this icon and your mp 3 recording will be started in your music folder section of Windows.
The moment you feel to stop the recording, you can do it by pressing the icon "Stop recording" at the same place where the recording was begun. In this way, you can remove the middle part if you don't want to record that by just clicking on "Stop recording" for the time until the desired part is gone and again pressing "Resume recording".
A screenshot of stopping recording is shown below: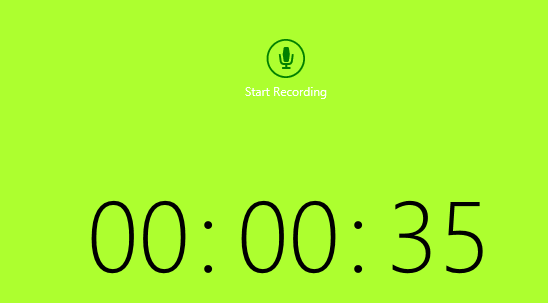 The moment you want to stop the recording, you will be asked to save the recording. After pressing "save" this would be saved in your music folder. You can access all the recordings just by swiping the cursor on the top part of the screen. There you will see an option of "view Recordings". Clicking on this will opens up a new window. A screenshot of this is shown below: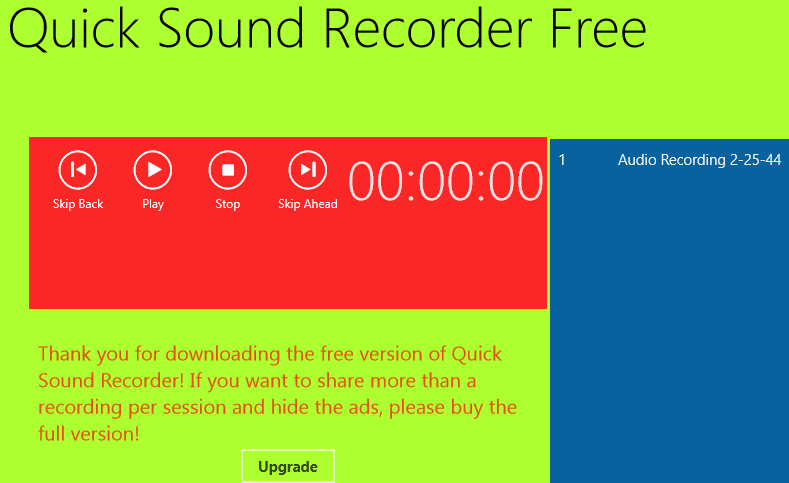 Here, you can see the options of listening recorded sound in the entire red region with some options too which are quite clear from the screenshot itself. You can Step ahead as well as skip back too using this app for windows 8. The entire blue region lists the total number of recorded files.
This is how you can use different options for Quick Sound Recorder.
Features of this app
Background recording when snapped.

Recordings can be shared using SkyDrive or mail.
Playback recordings.
Files can be renamed and deleted.
Conclusion
Quick Sound App is one of the must have apps in windows 8. Being a free app, it gives us a full entertainment means by recording funny sounds and sharing to our friends. It works for you in a few clicks only which is its best part. There are some features which are hidden. You can have access to them once you upgrade this app.