Windows 10 has made the user interface simpler where you can easily access items, tweak the design, manipulate taskbar, and many more such things. But, wouldn't it be great if the items in Windows 10 are obtainable from one place? Of course yes! In this article, we will witness the steps of how to access any item from the taskbar in Windows 10.
Now the question arises what are those items that would be accessed from Taskbar. Well, everything from This PC to Libraries, Control Panel, HomeGroup, and all the items listed in This PC and Desktop will be accessed from the Taskbar. Without any limitations, one can acquire files, programs, network, folders, and shortcuts; in short, anything reserved in their system can be obtainable. The Taskbar and Start Menu Properties empowers the user to add up a Desktop toolbar on the taskbar. The Desktop toolbar enlists all the items of This PC and Desktop. Even if This PC does not showcase the Libraries and all folders; Desktop toolbar produces everything. So, let us dive into the steps and see how to access any item from the taskbar in Windows 10.
However, this feature was handy too in the earlier versions where you practiced to add a toolbar named System to your taskbar.
How to Access any Item from Taskbar in Windows 10
Detect a vacant slot on the taskbar and administer a right-click to pick up Toolbars.
From the available four choices, click the third one, Desktop.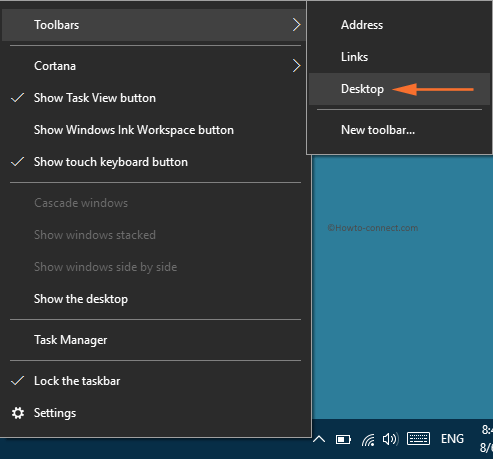 The taskbar will exhibit the Desktop toolbar with a forward arrow associated with its top right.
Conduct a click on the associated arrow and it will enlist all the items like OneDrive, This PC, Libraries, Control Panel, Recycle Bin, and the items present on Desktop.
The arrows attached to most of the items pop up its associated items. Suppose, click the arrow of This PC and it will showcase its related items along with the drives. Again, particular items also have arrows that list connected items.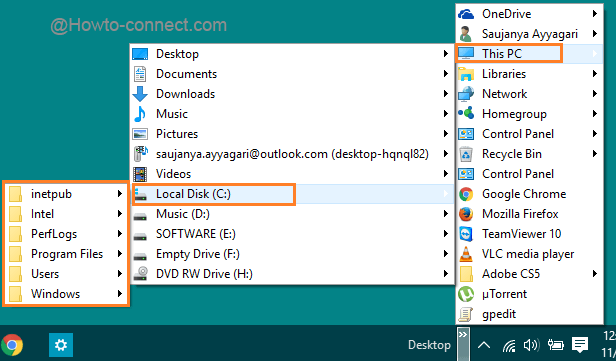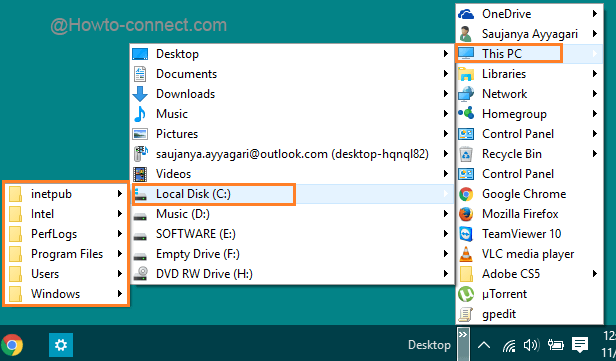 Desktop toolbar neither occupies much room on the taskbar nor makes the area look chunking. With a neat and subtle method, you can access any item from Taskbar in Windows 10. Give it a shot and definitely, share your perspective with us.