Windows 8 is a great operating system no doubt. I am running this operating on my laptop and feeling so easy, smooth, and fast. But, since I was using Windows 7 previously, its metro start screen was a problem for me initially. I think most Windows  8 users would think so. But, now software has come, by using this Start Screen will be activated in Windows 8. This is nothing, but Start Menu Modifier. Today we will discuss how to activate Start Menu Modifier in Windows 8. So keep reading further.
Features of Start Menu Modifier:- 
This new application (Start Menu Modifier) works as start menu. It permits you to tie up the windows 8 start screen on the upper panel or underneath of your desktop screen. This application can be also used with multi-monitor system. It supports Hotkey characteristics also. 
How to activate Start Menu Modifier application in windows 8 ?
At first, download Start Menu Modifier application from underneath link.
It comes in ZIP format so extract it in target folder.
Make sure that Microsoft Net framework application (3.5 or above versions) must be installed to run this application.
Launch this application and select the opted location ( for example – Top or underneath ) where you wish to tie your start screen on the desktop.
 As soon as you choose location, hit on the Apply option.
Now Start screen will run quickly at the chosen location (desktop screen top panel).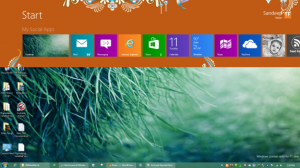 If you select this option – Run at Windows Startup, Start Menu Modifier application will run automatically in order to reboot Windows 8.
When you choose Restore Default option, it helps you to deactivate this application in Windows 8, and it will restore default metro start screen in previous look up at original places.
Download Link Of  Start Menu Modifier Application