Facebook inducts many more features on account of user needs. Timeline is new entrants of Facebook features. The Timeline application is designed to promote Friction-less sharing. As choices  of your's this application updates posts consequently share it. Suppose you add music app on your Facebook account then Timeline applications will automatically post an update about the song you have chosen to listen.
Certainly Timeline application adds up worthy features to Facebook for uninterrupted sharing. The Timeline application of Facebook manages to share updates after granting permission to do so.  The only privacy setting is obstacle to interrupt continuous sharing. Now, I am going to discuss the issue of adding application into Facebook Timeline.
To add application / app in Facebook Timeline, you have to take these simple steps.
After then select and click on apps which you like to induct in Timeline.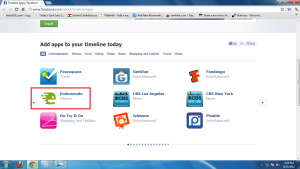 Login to own Facebook Accounts and then click on 'Go to app' button.