Apps are beauty of Windows 8. As well it supports OS to run program smoothly. A lot of apps are available for windows 8 as music app, news app, camera app, sports app, photo app, video app, YouTube app, etc. But we feel problem when these apps get corrupted or show error. But we have solution to this condition. Here, we are going to write step by step how to repair Windows 8 apps.
How to repair windows 8 app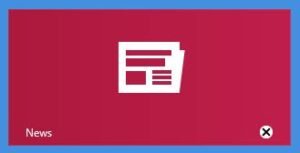 When you launch metro screen, you will view a small X sign underneath right panel of the corrupted app. Whenever You try to launch this app, it will show a message This app can't open.

If you wish to repair at a time, click on the Go to the Store link.
Then you will view a message like This app needs to be repaired and click on the Repair button.
Now your opted app will re-install and restore whole default settings.
As soon as the app is repaired, you will view a notification in the upper right panel which is informing that the app was installed successfully now.

When you effort to launch the repaired app from metro screen, you will access it well like previous stages.