LastQuake is an Android app. This app is developed by seismologists for the general public, earthquake onlookers and the scientific community. LastQuake is basically official earthquake app of Euro-Mediterranean Seismological Center (EMSC).  EMSC is a non-profitable scientific organization which had been created in 1975. It consists of 84 seismological institutes from 55 different countries. You know the earthquake is the natural calamity and has affected us with a big impact recently.
The aim of this organization is to provide information about each earthquake. It also encourages eyewitnesses to raise questions and send in relevant photos. You can visit their official website at www.emsc.eu. All features present on this app are a subsection of this app.
Note: – It does not predict about any place or timings of Earthquake. All it does is to explain the earthquakes happenings worldwide.
You can have this app from Google play Store or directly from its official website.
How to Use LastQuake Android App
Once you have installed this app, open this app by tapping on its icon. The interface of this app is designed in a pure red color. On your first time to this app, you have to submit your email id and mobile number. Once you complete your initial, the below shown screenshot will appear on your smartphone screen.
Here, you can see three options at the top. They are Significant, Near Me and All. Significant basically tells you about the earthquake which were felt at some place along with its timing and place. Clicking on any particular significant event will open the complete details about that particular earthquake along with others messages, pictures as well as sharing option.
Near me lets you learn about the earthquakes happened in your nearby locality. It is based on GPS. Therefore, for this option to work you have to open your GPS facility of your Smartphone.
All option lets you know about all major or minor earthquakes happening all around the world. You can see various earthquakes on Richter scale 2 here. This is of no concern as they continue to happen every time.
At the topmost right corner, you can see the settings option. Clicking on this will open a new screen which is shown below. Here, you can see various options. You can let them know about an earthquake by selecting I felt an earthquake. You could also go for Global Map or customize different features by selecting Settings option.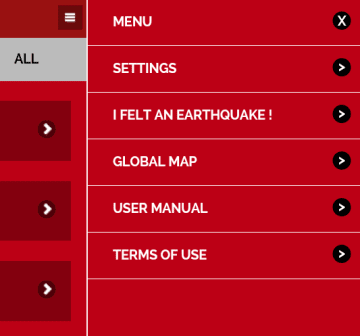 Here in the I felt an earthquake section, you can describe how you felt with the help of pictures which are already present there. It helps the organization as well as other individuals to observe its effects.
Key features
Provides real time data.
Different Colors indicate the effects of the earthquake.
Categorizes earthquakes in two categories i.e. Significant and All. Significant earthquakes are detected by the EMSC seismic rapid detection tools.
Read testimonies of observers.
EMSC, Street, and Aerial map for every earthquake.
Supports two languages: English, French.
Conclusion
LastQuake is a very nice app as it explains almost every minute detail of the recent earthquake. This app is very helpful for those who always feel like the earth is moving. They could immediately validate whether it actually happened or it was just their fear. Do tell us your views about this app in the comment box.