Etheme Launcher is a free launching Android app. It contains 2000+ themes, wallpapers, 200+ fonts and lock animations to customize your Smartphone.  The interface of this app is very simple but attractive. It provides you free theme and wallpaper. The newer version of this app has brought 4 new themes and 2 new lockers. Its way of providing updates weekly is mind boggling. It not only fixes its bugs but also improves performance. Earlier we have illustrated an android app KK Launcher to enhance the beauty of your android device.
You can have this app from Google Play store or you could just visit its official website to look upon various plugins http://ethemeapps.com/
How to Use Etheme Launcher Android App
Once you have installed Etheme Launcher app on your smartphone, this app will take place of your original system launcher. The interface of this app is just too good. A screenshot of this app is shown below: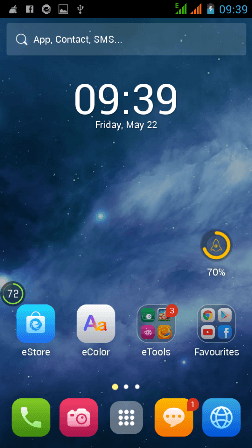 All your different apps are arranged in a particular folder depending upon their usage, works etc. like all your apps which are frequently used are put at one place in favorite folder. There is a booster option present just above the favorite folder. This let you boost up the speed, battery life and the junk spaces of your storage device.
It provides you an option of Smart Folder in which similar apps would be grouped together automatically. You can freely add, remove or hide apps easily on this app. This app also lets you rename any folder you wish to in the way you like.
Clicking on eTools will open a new interface consisting of different inner built options. For using different tools present inside this folder, you have to install plugins to run on this app.  Some of its important tools are mentioned below:
Theme: – You can use thousands of themes which are present here in this tool. You can share your home screen with a single touch via Facebook, Twitter, and Google+.
Theme Maker: – Using this option, you can create creative themes by your own by selecting wallpaper which are already present there or by selecting pictures from your Gallery.
eLocker: – This is one of the funny locks present to you. They provide an amazing interface to work upon.
Moving to the next slide, the below shown screen will appear on your Smartphone's screen.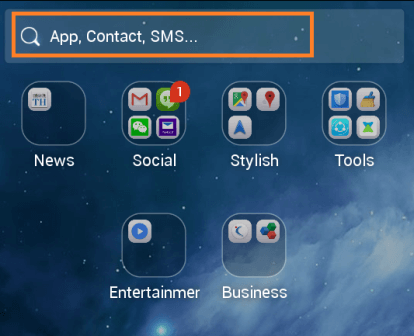 Here is a search option just at the top of the launcher. You can search for any apps, contact or SMS directly by putting their initials. In the screenshot shown above, you could also see various folders, each consisting of similar apps whether it be News, Social, Entertainer, Business or Tools.
Key Features:
Allows you make your own theme.
Boost up the storage capacity of your device.
Increases the speed and battery life of your Smartphone.
Also, let you lock you're your phone with funny animations.
Provides you a quick and fast search of apps, SMS and contacts.
Conclusion
Etheme Launcher is one of the best launching apps on Android Smartphone owing to its multitasking facility. Its ability to search for any contacts or apps directly from its main screen is just too awesome. Again, the funny phone locks provided here on this app is appreciable. Let us know your views about this app in the comment box.