A webcam is generally known as an integrated camera. Today's almost every laptop or tablet presents webcam. For desktop, user has to purchase webcam from the market and plug it as external. Actually webcam is used to record videos and take photos with the purpose of entertainment. On the other side, webcam is helpful to make video calls or chat with friends on social sites.
Windows 8 offers default camera app on start screen to enjoy unlimited fun with the present webcam on laptop or tablet. I have already discussed camera app of windows 8. Actually camera app supports only basic settings for taking snapshots or video recording. It does not support enhanced features like HD recording and lack of special effects or filters on photos or videos.
If windows 8 user is looking for high feature enabled webcam app then they can check out 4 best freeware webcam app.
Best Webcam apps for Windows 8
It is main webcam app for windows 8 devices like laptop and tablets. CyberLink YouCam 5 provides interesting features on webcam in order to set unlimited fun effects on the taken photo and video as well as frames, styles, and filters. YouCam 5 supports also HD video recording. During chatting with friends, users can set 3D effects or avatars on their photo or video.
YouCam 5 app is important for windows 8 because it can be configured as default photo or video app on windows 8 instead of camera app. Within YouCam 5 app, it is simple to switch in capturing snaps or videos with the slider at the top right panel at once.
2.   MyCam
MyCam is a plain outside app that facilitates to capture photos and record videos with built-in webcam devices. It does not matter which brand of webcam is using on Windows 8 tablet or laptop because MyCam will support almost every brand immediately. Then there is no need for extra setup during MyCam app installation.
The Maycam app presents settings panel at the bottom of their main interface. In order to take snapshots, select JPEG or BMP image format, for video recording, set AVI or MPEG format along with configuring the video quality and frame rate.
3.     ManyCam
Many Cam is specially designed to gain more experience about web chats. During chatting over the web, it offers particular effects and backgrounds to keep on video chats with fun and entertainment. The special effects are chosen from mentioned category for example – wigs, animals, hats and much more.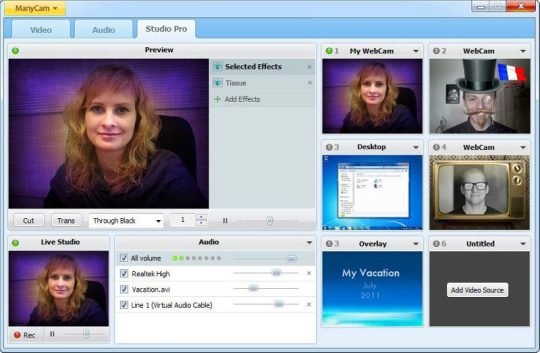 4. Magic Camera
The Magic Camera app converts webcam into a fun device because it offers interesting effects and frames during chatting. It also prompts preview of the taken snapshots during applying filters, effects, backgrounds or animations. Magic Camera runs with every chat service like Live Messenger, AOL, ICQ, Skype, Facebook and etc.