Bing Wikipedia Browser is a Windows 8 app to search and read articles in an easy way. This is basically a searching app with advanced features related to contents, materials, and sections. Using this app, you could search for any Wikipedia article. The function of this browser is very simple. All it does is brings you the data taken from Wikipedia but the filtered portion as searched by you. This browser helps you in getting different materials which matter to you along with options of sharing page, changing their fonts, history knowledge. Finding any word or a particular sentence is very easy here in this app.
Recommended: How to Access Wikipedia Offline on Windows and Linux
The interface of Bing Wikipedia Browser Windows 8 App is designed in a similar way to that of Wikipedia. You will surely get a feel of using Wiki with advanced options.
This app also provides three different categories on the home screen which could be easily found below the search option. They are Featured, Contents, and Favorites. A description of them is given below:
Featured: This section consists of featured articles of today. It also provides you the history of the date of every day. A detailed description is also there shown with the help of pictures. It consists of hundreds of sub-section like Arts, Maths, Geography, etc.
Contents: This section basically shows the format in which all the articles are written with details of each Topic and Sub-Topics. You can also view the format of articles of different indexes (portals) of Wikipedia, like History, Arts, Mathematics, Geography, Science, etc.
Favorites: This section shows the articles which you have made as your favorite.
A link has been provided at the last of this article from where you can access this app and download it.
How to use Bing Wikipedia Browser App
Once, you have launched this app on your Windows machine, it would create a search box which is very cozy in searching various stuff. You can search for any name, friend, etc. here in this search box. On the next screen, you will find the article on that topic with different options shown, as in the screenshot below. There are different other options as well in this browser. A little description of each of them is written below:
Recommendation: Present on the left-bottom of the screen shown. It also recommends some of the similar things you have searched before.
You can use the Scroll down option to view next image on this app or move over to previously opened image.
Table of Contents option renders to view the subtopics of that article. These subtopics are available to read using the tab without scrolling down.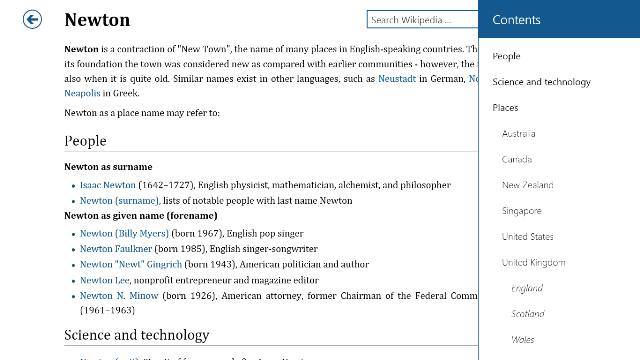 Article detail page comprises few other options like – Add To Favorites, Share this page, Find on this page, Read in another language, Open in browser, Adjust font size, and Clear History.
Bing Wikipedia Browser Windows 8 App Key Features
Search as well as browse tons of articles with ease.
Explore related topics along with the recommendation bar.
See any pictures in its full resolution.
Sharing topics among your friends is very cool.
Provides a favorite where you can add any article.
Use the fonts which suits you the most.
Know what has already been searched before.
Conclusion
Bing Wikipedia Browser is considered to be the best searching app for Wikipedia articles. Not only it combines the features of Bing to Wikipedia but it also gives you the flexibility of using it in different fonts, sharing page, and reading in different languages. This is a worth having app, so try it on and if you have any query do ask us below.