Battery Doctor is an absolutely free Android/ iOS apps for smartphones. This app can Boost Battery Life on Android by 50% by finding and closing those apps which are sucking the power on your device very fast. This app supports 27 languages which is unique in itself. This app also provides you a detailed picture of where your power is being consumed the most/ least. Again, using this app will also help you in healthy charging of your mobile.
Battery Doctor estimates the left battery time of your device to a very close limit which is indeed very helpful. There are other widgets included in this app like tasks killing which ameliorates the power consumption conveniently. Using this app, it becomes very comfortable to manage WiFi, data, Brightness and set power saving modes. You can have this app from typing "Battery Doctor" on Google Play Store.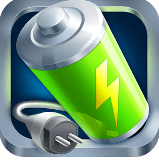 How to Boost Battery Life on Android by 50%
Once you have installed this app onto your device, open this app by tapping on its icon present on your home screen. For your better understanding, we have included different screenshots in a single image. Below shown is a screenshot showing all the initial features of this app while starting. Let's see what they are and how to use them.
The first slide will open up whenever you open this app. This app always shows "Save Power" encircled in the middle. You can tap on this to diagnose different settings of your handset. At the top-middle of this slide, you can see a black button. Clicking on this will expand this like an envelope where you have different options which could be managed directly from here. You need not have to go to your smartphone's settings to manage all these things like Wi-Fi, Data, Brightness, Sound Profiles, etc.
The third slide could be opened by clicking on the three dot structures present at the topmost right corner. It shows various options. Click on settings to adjust different things of this app.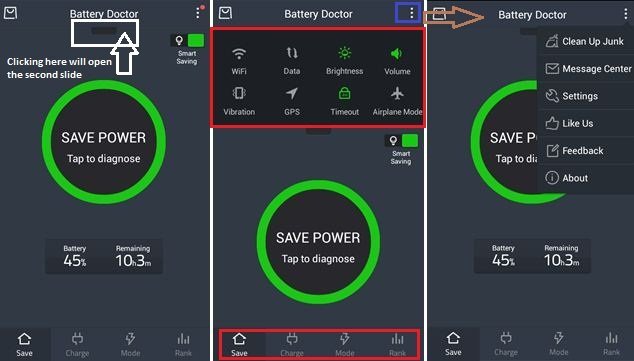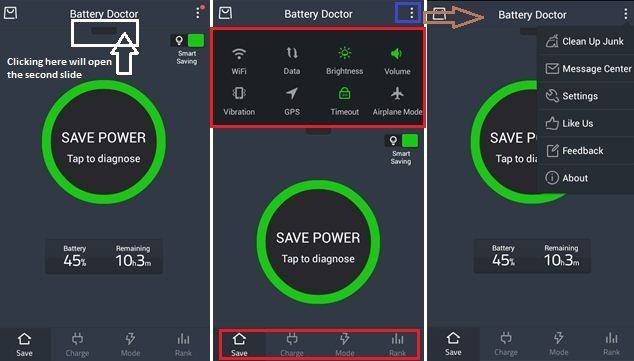 Note that at the bottom of this app, you can see various options like Save, Charge, Mode and Rank. Where the first one "Save" is already mentioned and is particularly used to save your battery life and also used as its home screen, the others also play a key role in making this app remarkable.
Below shown is the screenshot of left features of this app. The first slide belongs to the charge where it indicates exactly how much time is required to charge your battery and again how much time will it take to drain all its power. The second slide belongs to the Mode where you can opt for a particular mode which is best known for their power saving ability. You could also add options and make your own particular mode where you could decide which one to be used and not.
The third slide provides you proper information about power being consumed by different apps present on your device. Look at them and if found they are using too much energy, you can directly close those apps from here.
In the settings option of this app, you can opt for wallpaper, get to know about charging tips, gets notification about your phone charging, and complete ringtone and several others which you can find once you go to the settings tab of this app. How to reach settings tab has already been shown in the first screenshot.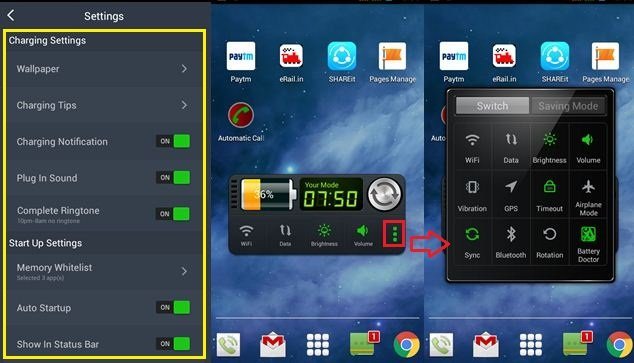 There is a widget provided by this app. You can get this widget present among the different widgets present on your mobile and can bring this on your Home Menu. Bringing this widget to your home screen serves many purposes. You can see various functions which are there inside this widget in the third slide of the above shown screenshot. There is a power booster present at the top right of this widget using which you can clean junk files and boost up the life of your battery.
Conclusion
Battery Doctor is a very nice app when it comes to the power saving apps. It not only provides you a way out to save the battery life but also provides some of the easiest way to access various settings of your Smartphone and Boost Battery Life on Android by 50%. This is a worth having app for your smartphone. If you want a feedback/ review about any app (Android, Windows 10), just write down the name of the app in the comment box below.