Windows 10 is considered to be one of the best and secure OS among all the versions. There are so many system updates that keep on taking place internally and help you in potentializing your system to keep it safe and secure. Windows 10 also receives its updates pushed by "Microsoft".
It happens so many times that windows keeps on downloading updates automatically and when it gets completed, these updates get installed instantly. They don't require any review or check of any kind. Sometimes, it might be necessary to check or find out about what are the applications which are getting installed on your system. Windows 10 provides a very simple solution to such problems. Using this operating system, you can easily See Update History in Windows 10 which has been installed in your systems so far. Let's see how to do this.
Another useful :
How to See Update History in Windows 10
To view your update history in Windows 10, follow the following steps mentioned below.
Open the Modern settings on your PC and click here on the Update and security sub-module. A screenshot of which is shown below.
Clicking on this will open a new window. Look at the left hand side of the new window. There, you will find "relevant options". Scroll down and select Windows update. Again, click here on the advanced options link in the right column to proceed further.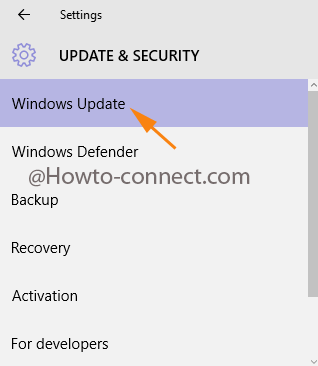 Click on View your update history option under the Choose how updates are installed on the next screen.
Here, you will see a list of all the operating system (and associated) updates installed so far in Windows 10, with the most recently installed updates appearing on the top of the list. The window of Update History is shown.  in the first screenshot.
Conclusion
System Updates are a very useful and powerful thing for any version of windows. It not only enhances the speed of your system but also make your PC secure against new viruses and Trojan attacks. It basically works as the powerhouse of an operating system. Having the access to see review the update is something prettier. See Update History in Windows 10 and tell us your views on this in the comment box below.