Here, in this article, we are going to introduce you to the concept of dual booting of Windows 10 with windows 7. After reading this article, you could be able on how to do a dual boot your PC with Windows 10 and Windows 7. The most important thing while doing the dual boot is that all your files remain untouched. This is a very new concept of Microsoft and it provides various kinds of new features here in this OS.
We all know that Windows 10 has come along with lots of hopes, exciting features, and several improvements to the previous version. When we look back for some moment, We find all those little discrepancies which have divided users into two groups where one likes the old format of Windows 7 while others like Windows 8 is patched up. Windows 10 has tried to make a pavement from both OS so that this time users like this OS very much. This time, OS is developed from the modern UI which was introduced with Windows 8 along with the general simplicity of Windows 7. So we are writing the tips for  How to Boot Windows 10 along with Windows 7. Here we are A screenshot while dual booting both Windows is shown below: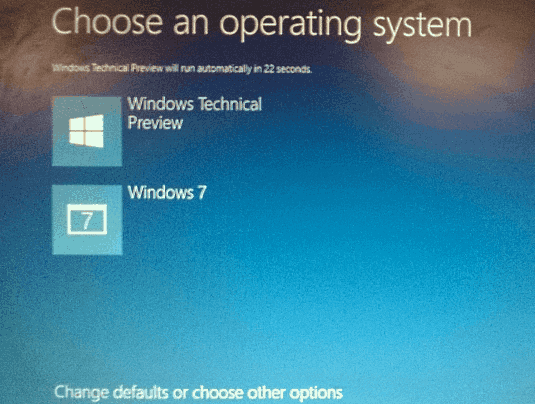 Let's see How to Boot Windows 10 along with Windows 7
In the above screenshot, you can see both options i.e. windows 10 and windows 7 installed side by side. Follow the written down steps and you will get how to How to Boot Windows 10 along with Windows 7.
At first, you need to have an existing version of windows for you could dual boot windows 10 with windows 7. For this, you need to have installation media. Here, in this article, we could use flash drive as the installation file. Once, the booting of installation media is done, the setup wizard will open up and show you the option of installing windows.
Press Install Now button here and the setup will start to ask you the type of installation. There are standard two types of installation. One of them is Standard where you don't need interrupting while the installing is being done while the other one is Custom where there are advanced settings available there which let you specify advanced options like installation partition and many others.
At last, you were asked to choose the disk partition where you would like to keep your windows 10 and install it. Note that one should always change the OS partition so that both OS are kept at different partition. If you don't know how to make disk management, you can always type disk management on start menu and after then on it, make a partition by right clicking on any partition and then shrinking it down even more.
This is all which you have to do. The installation media will run and adjust the settings and once it is completed, it will eject the installation media. In this way, your new Windows 10 is installed. Using Boot Manager, you can easily select whichever Operating System you want to use right now.
Note: However this article has been written down for multiple boot of Windows 10 along with Windows 7, but if you wish to multiple boot your PC with along with Windows 10 and the other of your wish you can do so. All you have to do is to follow the same steps as written above. Its configuration is compatible with major previous versions of windows like windows 8, windows vista, etc.
Conclusion
Windows 10 is very easy to install OS along with dual boot or multi-boot. Its configuration is compatible with almost many previous OS. Start Menu and Start Screen have been combined together in a fantastic way. If you are not sure of which OS to let you stay with you, Boot Windows 10 along with Windows 7 is the best option you have. If you have any questions, do let us know that through comments.