Global Chat is a free application of windows 8 using which you could chat with your friends, family members freely from any corner of the world if you have the proper internet connection. This app doesn't require any complex settings. All you have to do is to launch this app and start chatting with your friends. This app supports Global chat Rooms which are called Groups. Using this incredible application, you could send text, images, voice messages, and even files too. You could also see many groups on this app where chatting is going on. You could join any of these groups if it is permitted or you could simply start your own group chat and invite your friends or classmates to come over and talk on this group. You could also allow or forbid other users from accessing your group.
The user interface is very neat and highly polished. The simple, intuitive interface with a huge number of features and controls, makes it the must have for every windows 8 users. On my test device, I experienced no lags or crashes whatsoever while running this app. A screenshot of this app is shown below: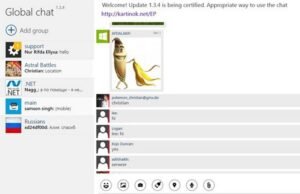 You could have access to this app from the link provided at the last of this article. You could also search it using the Windows 8 charm settings (Win+I) or could directly look for it in the Social Category of windows 8 App Store.
How to use Global Chat App
Once you have properly installed this app on your Windows 8 machine, you could open it from its icon present in the Metro UI interface. On opening this app, A window will pop-up on your screen asking your name, sex, place, and age. Once you are done with filling the credentials, you would be directed to the main screen. You could see the chat screen at the center, and it takes almost all the space of your app's screen. You could see all the available groups on the left side. Again, all the participants of a group could be seen on the right side of this app.
As this app allows the feature of sending a voice message, it helps a lot when you are not wishing to type texts and send it over. All you have to do is to click on the send recorded voice button, and you'll get the option to record your voice, click on Start and speak what you have to say. Once you are done with the recording, click on the Stop icon and then send it to your friend. This message will be delivered to your friend immediately. Again, there is an exciting feature that allows for its users. This is expressing yourself with the drawings. This is indeed a nice feature as it gives you the feasibility of explaining yourself in terms of pictures and new emotions.
Obviously this app allows you the feature of sending emotions from a large collection of pre-existing emotions. However, the facility of drawings gives you the freedom of creating your own expression and emotion and send to your loved ones. This app also allows the feature of sending photos. You could see the current location of your friends on the chat box. This is quite an amazing app with exciting features which make your chat more interesting and funny.
Key Features Of Global Chat App
Free Of cost Application.
Neat and clean Interface.
Option to scribble simultaneously on drawing board by the Global Chat App.
Web camera could be used to take a snap and could be sent over the chat.
Allow Text, images as well as voice messages.
Images, URLs, and text could also be shared using this app.
Allows the facility of exchanging the location with other members.
Your Chat history is saved here.
Integrated with Windows 8 charming settings.
Conclusion
Isn't this exciting that you could talk to your friends freely without opening any particular website but directly from your windows machine. Indeed it is, and this is why Microsoft has developed this application. This app is lightweight and it requires very little space of your memory. This is really a nice application and you will love it at your first sight if you love chatting with social friends. All in all, it's a nice free Windows 8 live chat app.
Link: http://apps.microsoft.com/windows/en-us/app/global-chat/67c0b767-f5c7-4f10-9afd-86ae5372b021