You always remain conscious and use to check OneDrive Remaining Free Storage Space while Saving stuff in the Cloud. For OneDrive users, Microsoft currently offers only 5 GB plus 5GB Camera Roll Bonus free. In addition, you can earn supplementary 500MB by referring a friend to use OneDrive. You can follow a guide in this regard – How to Increase Free OneDrive Storage Space Upto 15 GB. And the limit for the referral is 10 GB. As you cross these limits while uploading your files, OneDrive gives options to buy plans (lowest 5TB – Rs. 460/month).
So you need to Check Remaining Free Storage Space in OneDrive to avoid paying and buying plans. Windows 10 provides you information for the same and staying on your computer you can easily find the usage of the cloud storage. Apart from this, you can also aware of the info on the online website of OneDrive. You will find here both the ways. See a very remarkable article in this concern – How to Enable / Disable OneDrive Usage in Windows 10.
Check OneDrive Remaining Free Storage Space on Windows 10
Way 1 – From OneDrive Settings
Before start checking, make sure that icon of OneDrive is visible in the system tray of the taskbar. If it disappears then follow the guideline from the article OneDrive Cloud Icon Not Showing on System Tray in Windows 10 and restore.
Step 1 – Locate the OneDrive icon whether it is on the taskbar or System tray. Right click on the cloud Shape icon and select Settings from the context menu.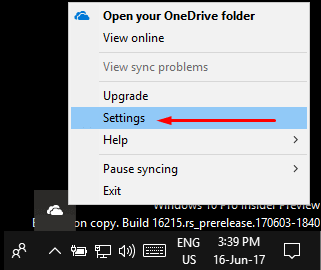 Step 3 – The Settings opens with the Accounts tab by default. In the 1st box, you can see OneDrive Remaining Free Storage Space. Mine is showing 10.0 GB of 30.0 GB cloud storage used in the below screenshot.
Way 2 – From Online OneDrive Site
Step 1 – Access the web page https://onedrive.live.com/. Login with your currently active username and password. When you want a variation in your credentials then follow the instructions in How to Change OneDrive Password in Windows 10.
Step 2 – Once you enter your OneDrive account select Settings icon from the top bar and then Options.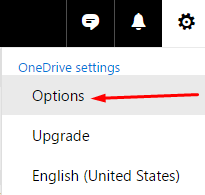 Step 3 – In the Manage storage section, you can see a status bar for the space usage on the cloud storage service. You find OneDrive Remaining Free Storage Space just above the status bar.
Closing Words
Once you Check OneDrive Remaining Free Storage Space on Windows 10, you can stack your photos and necessary items. If you are at the edge of the limit then you can delete less important files and folders to manage. Moreover, You can empty OneDrive Recycle bin to retrieve some place here. A number of times, storage keeps us reminding to clear the unnecessary data.