The relevance of Mouse becomes evident when someone is posing a challenge by saying 'Is it possible to browse Internet without using Mouse?' In such scenario most of the users reiterate, it can't be possible to browse the internet without a help of mouse. Their explanations seem true in the first instance because browsing requires lots of scrolling on webpages and without Mouse, it seems difficult. This observation was truly right before the advent of DeadMouse app for Chrome. A few Chrome Extension, which recedes dependency on Mouse known as 'Online Streaming Music' has been introduced in earlier articles. The particular article leads you to know about DeadMouse applications and how it will be installed on Chrome.
Use Chrome DeadMouse Extension to Browse Internet without mouse
The DeadMouse app gives freedom to access Internet without using a mouse. Whenever you install DeadMouse app on Chrome, you may access any website by typing titles. As soon as you put a couple of letters related to title of websites, the link will start moving. You need to apply enter to open in same windows. It needs to open in New Tab then press 'Ctrl + Enter Key' at the same time. When users press 'Ctrl + Tab' then they may access opened webpage simultaneously. The extension allows users to add certain websites into the fold of blacklist. Now, I am pointing method of installation of DeadMouse for Chrome.
Go to Chrome Web Store and after then search for DeadMouse app. To access exact location of app Click Here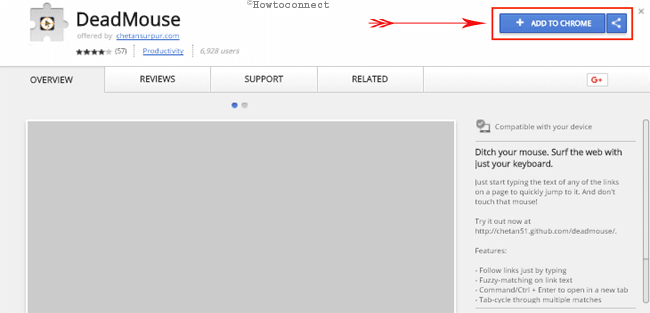 After then click 'Add to Chrome' button and also allow permission to install the app on Chrome.