Cortana in Windows 10 is a chat-based UI that was launched with the intention to make things easier such as managing schedules and tasks. But since when Microsoft confessed, they pile up the browsing history and every other info of Cortana, many people started feeling insecure about their privacy. When you use Cortana for any assistance, Windows usually save all information on your PC as well as in your Bing account in order to make this work better. Many people don't like to get tracked and disable the future for safety. However, clearing your Chat history on Cortana will be more ideal than disabling it.
With Cortana, you can simply type or use your voice to make a request and find the information you want or perform a specific task. This productivity assistant not only helps in opening few basic programs but also lets you check the calendar, set a reminder, add to your lists in Microsoft To Do, and many more. With help of the same, you can also access local information, get definitions, and keep track of the latest news, weather, and finance information.
Clear Chat history on Cortana in Windows 10
Here is How to Clear Chat history on Cortana in Windows 10 –
Click Talk to Cortana icon lying on the taskbar.
Next, click the hamburger menu from the top left and select – Settings.
When Cortana settings appear, select – Privacy.
Click on Clear button under Chat history.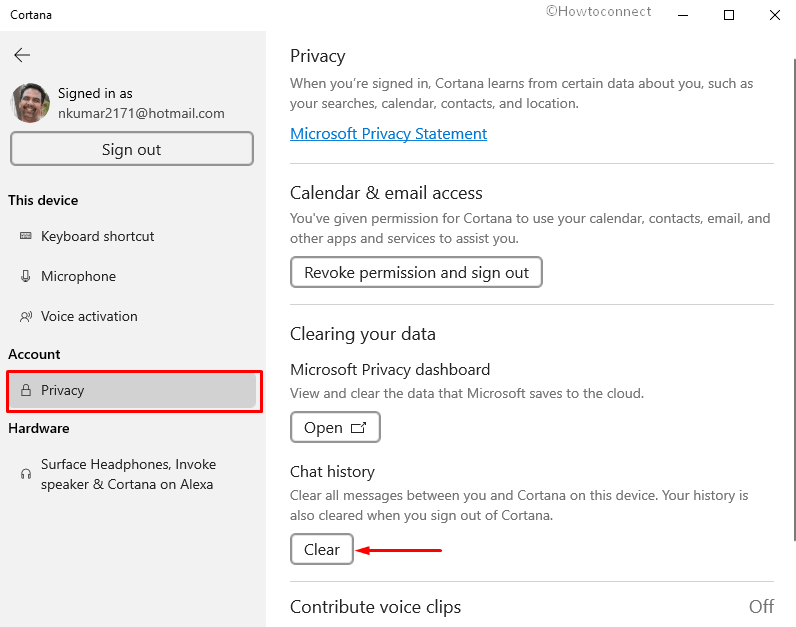 You will come across a pop up saying – This action can't be undone; select – Clear.
That's all!!!