Cool News is a free windows 8 app. This app provides you top news from all over the world. It is a news reader app which allows to read news from different sources on your windows 8 devices. Cool News app provides you the news from the sources you select here on this app at the first time you use this app. There is no such hard and fast rule here that if you have selected any sources at first time, you won't be able to add more or remove some. You can always do that. For this all you have to do that is to click on + button which is present on the top left corner of the screen and then add sources from which you want to have the information now onward.
Cool News app has a pretty clean interface which is self explanatory. It consists of various toggles which makes the navigation between different parts of this app very easy. This app is freely available at windows Store. A screenshot of this app is shown below: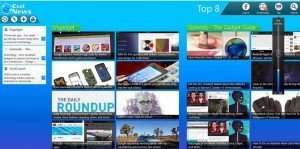 You can own Cool News app from the link provided at the lowest of this article.
How to use Cool News Windows 8 app for reading news
Launching Cool News app for the first time will ask you show a list of various categories among which you have to select those from which you would like to hear in the future. You can select all categories if you wish to, however doing so it would make this app a little cluttered. You can also add different items to it at a later stage by clicking on + button and then search for the news you want to look for like for example Hindustan Times. You have to search for this under search option provided. This would presents some of the suggestion. Opt for the one which you were looking for and there you are getting information on this in your home screen. If you wish to delete any source, it could also be done in few seconds. Click on the Pencil button present on the main screen, select the source which you want to delete and then press delete. The selected source would be deleted from your home screen. Refresh your home screen to see your new home screen.
Not only you can add papers, magazines but also technology websites as the source. There is no bar limit on adding sources. You can add as many you want to. To add any source, just search the for the Title and then click on the left side of the screen and then simply click on its tiles. This app also supports a docked view. This app is very customizing news editor app. Background of this editor can be changed according to your wishes by clicking on color palette button next to the + button in the main screen. This is all which you need to know to run this editor and get information.
Key Features of Cool News App
Free of cost.
No promotion of ads here.
Allows adding multiple sources, supports docked view.
Provides customization settings.
Allows personalized news and RSS search.
Supports changing of background.
Provides reading lists for later.
Supports Live as well as Secondary Tiles.
Conclusion
Cool News is a good news reading Windows 8 app if you like reading news. It provides you news from each and every corner of the world which are important. You can choose your own category among the different ones present here on this app. This news app will then provide you news related to those categories. It is really an interesting app while getting information all round the world. Overall, this is a good app and one should have it.