Hangman Deluxe Premium is a free windows 8 app used to enrich vocabulary by playing game. This is based on a simple logic, and that one is if you complete words based on hints provided to you, you will reach to the next level otherwise your session at that time will end there, and you have to play it again if you wish to play again. You have to be consistent in making words right so that you fulfill the words completely. Hangman Deluxe Premium consists of 10,000 words each in three different languages. All you have to do is to save your hangman to a larger period of time so that you could enjoy and learn more.
This is a good educational as well as an interesting game allowing you to play to enrich what you already know and in combination with that learn new words. You can have this app from windows store under the game category. The interface of this app is clean and uncluttered. A screenshot of this app is shown below: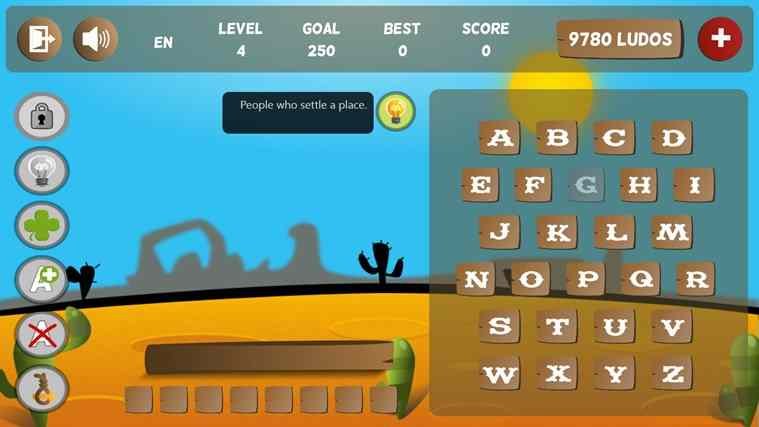 You can take unto oneself this beautiful app from the link provided at the last of this article.
How to play and learn using Hangman Deluxe Premium Windows 8 app
Running this Hangman Deluxe Premium will open a window like the above-shown picture. This is the home page of this app. At first, you will be asked to select a language to proceed. The different languages which you will find here are English, Spanish and French. Clicking on the hangman picture will take you to a door opening which shows you a set of 8 levels. Select the level from where you would like to start. Note that in each level you find a new theme for your entertainment.
While playing this game on your windows machine, power would be displayed on your screen along with a nice hint for that word which you have to complete. There is a feature present here. This is Lock feature. This is used to enable or disable prompting before using the powers. Enabling the lock will tell you how many ludo you are going to lose when you would use it for this word thus giving you a balance between what you have and what is going to be spent. Note that in case you disable this feature this prompting would not be done.
Note that, initially you would be provided only 1st level game unlocked. To unlock the further levels you have to play this game seriously. Again, the hints given to you in the first or second chance of the game while you were on the first level would be completely free. After that, you will be charged ludo to get hints. In order to activate it you have to click on the Bulb button. Completing the goal automatically unlocks the next level.
What is Ludo in Hangman Deluxe Premium App
In this game, you are provided with a large number of powers. If you wish to use those powers, you have to play ludo. You can see ludo in the top right corner. There are 100 ludos provided to you at the beginning. Buying Powers lose the total number of ludos you have in this game. If you want to increase the number counts of total ludos, you have to solve the word with the least number of mistakes or by using the powers which are available to you at a low rate.
Importance of power in Hangman Deluxe Premium Windows 8 App
Power is used in this game to have an option to get an extra turn. It is basically used to remove any wrong alphabet from the present options, show any random letter of the word or get a hint for the word being asked. Your highest score would be stored by this gaming app and will be shown to you the next time you start playing this game.
Key Features of Hangman Deluxe Premium Windows 8 App
Doesn't cost you a single penny.
Consists of 8 great themes with lovable music and sounds.
10,000 Words chosen by the evil executioner.
Provides hint to find some letters or words.
2 Extra themes: Halloween and Christmas.
Provides Power during the gameplay.
Comes in three languages: English, French, and Spanish.
Graphics Quality of this game is awesome.
Conclusion
Hangman Deluxe Premium is really a fun game enriching the total number of words you know in combination with teaching new words. The words provided here are of different qualities i.e. some of them are hard, some of them are basic and most of them are medium level which is commonly used in our day to day life. Overall, this is a nice app to increase your vocabulary.
Link: Hangman Deluxe Premium