Copying and moving a file from one place to another is an essential thing when we are working on a PC or desktop. Now, while copying we always feel that our PC is doing the copying process a little bit slow. But, as we don't have the option except for waiting for it and relaxing. However, the wait is now over. As you can Copy Bulk Files Faster using Ultracopier in Windows than its earlier speed.
What is Ultracopier
Ultracopier is a free app for Windows. This is used to make Copy Bulk Files Faster using Ultracopier in Windows. This app can also be used to change the order of copying i.e. while copying we always feel that we would have a choice so that we could make some of the files move earlier than the others. Well, this is it, this is the app for which you are waiting for. Using this app you can also control the speed of moving files. Basically, this app is an advanced form of Windows copy files process by which we can now pause, skip, move, copy, etc. bulk files simultaneously.
How to Copy Bulk Files Faster using Ultracopier in Windows
The Interface of this app is shown below. As it can be seen in the figure itself that various works are being done at the same time. Again, this app has a variety of options too during the copying and moving process like More, Pause, Skip, Quit, etc. You can use this app to do several things to your copying or moving files. You can stop each process and can manually decide whichever file to be copied, whichever file to be stopped etc. This app is used for import/export of files too. The copying process using this app is nice and can be used to move or copy large files from windows or from your Hard disk to USB.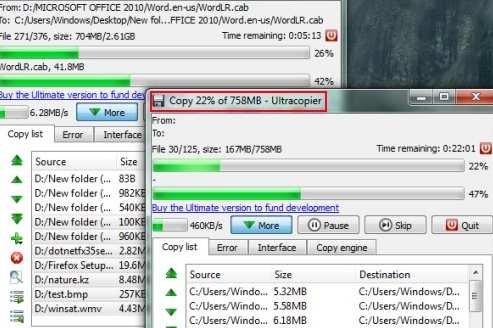 You can see in its interface that, it has three main buttons.
More:

I

t is the most important button of this app as it keeps a record of all the files being moved, copied, deleted, etc. Note that, when you will click on the More button, a window will open with many other options. In this window, at left you will find a Copy-List tab which can be used to move the files being copied to be moved up, down, etc. Various other actions may also be taken using this feature. 
Pause: It is a simple task that is used for stopping a function for some moment from being run.
Skip: This is the task being used to come out from an On-going transferring function.
This is how the above app i.e. Ultracopier is used in our Windows.
How to get this app
You can download this app by clicking Ultracopier. You should know that before downloading this app you should know the exact bit of your PC in advance i..e whether your PC is of 32 bit or 64 bit.