You will be delighted to know that you can Create Collections in Cortana Windows 10. This is a new feature that got integrated into Edge browser. It includes five categories – Books, Movies & TV, Recipes, Restaurants, and Shopping. The built-in digital assistant remembers the items you browse on Edge then assists you in collecting them.
Cortana pops up with a notification when you are on a web page whose contents are worth saving,  Depending upon your browsing habit. It gives you two choices – Create list and Dismiss.
If you choose to create a list, a new window opens up and lets you add the item to its specific category. And if the item doesn't interest you much, click Dismiss to close the notification. However, when you open Cortana, you can see Collections icon and manage them accordingly.
For reference, you can read our guide to Create New Folder in Favorites on Edge Browser.
Note – To avail this Collections facility ensure that you are running build 17017 or higher.
Create Collections in Cortana Windows 10
Step 1 – To Create Collections in Cortana, open the digital assistant and click Collections icon on the left sidebar (see screenshot).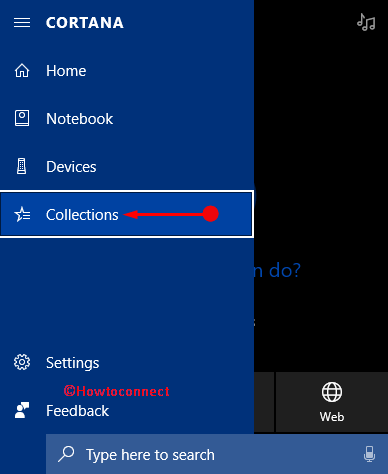 Step 2 – Collections window shows up on the PC screen, click Sign in button. Now, open Edge browser and while you browse, Cortana notice things you are interested in.
Step 3 – When Cortana finds something to add to your collections (depending on your interests), it notifies you. The banner displays two options – Create List and Dismiss. If you don't want to add it to the collection, click Dismiss, otherwise click Create List.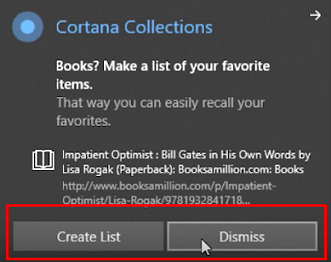 Step 4 – This immediately launches a new window of Collections. So, drag the one you want to keep on your collections into the selected list.
Step 5 – That's all and in this way, you can often Create Collections in Cortana Windows 10.
Step 6 – In case, you ever prefer to delete items, simply launch Cortana, click Collections icon. On the window that comes into view, go to the required category, click the X button that appears when you hover the cursor on it.
Conclusion
Hopefully, after following the above-given steps, you can pretty much easily Create Collections in Cortana Windows 10. If you prefer Microsoft's built-in assistant to monitor everything you are looking online, then it is definitely an awesome feature. Thus, have a happy collection of books, recipes, shows, shopping, and recipes moreover, if you are aware of more tips, do write them to us.