Simplifyer is a free App for Windows 8 using which you can create his own beautiful and amazing websites on tablet, computer, or phone in less than 60 seconds. It is an original Windows Store application (soon for IOS, WP8) website builder. It is a super simple and fun app that lets you create instant, themed websites straight from your device.
The interface of this App is designed in a very clever and wonderful way. It looks really cool and awesome. A screenshot of its home screen is shown below: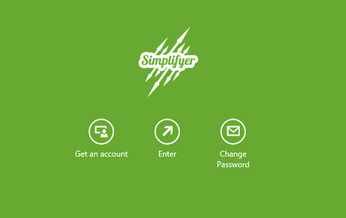 How to use this App
Once you have installed this app in your windows machine and run it, a window will pop-up asking your option to continue. Here you will notice three options.
Get an Account.

Enter.
Change Password.
If you don't have the account, first make your own account and then press enter. Once you enter inside this App, home screen like the above screenshot will appear in front of you. There you could see that there are four options present on your screen.
Main.

Simpls.
Explore.
Me.
Main: Here you could see about other websites, the one which is currently running as the best website. Here, you could also look for other websites, blogs, and many beautiful other pieces of stuff created by other users.
Simpls: Basically this is the center place of this App. Using this feature, you can make your websites look more attractive and amazing than others to become the "Best of the week". A screenshot of this is shown below.
In the above screenshot you can see yourself that it is asking for the tile about your website and some other questions or requirements which you have to fill before fully creating your website. It takes less than 60 seconds in completion depending on how fast you want to make it.
Explore: You can see all the users registered in this app as well as the Simpls promoted by different users. If you have an account at this App, other users could also explore your website on their own website.
Me: This is basically your own area where you could see all the simpls developed by you. You can do the necessary changes here in this section if required.  Here, in the above screenshot of "Me" you can see so many different things like Messages sent to your friend, your favorite, Your followers, the friends you are following, option for editing your profile, and many others.
If you want to edit your own simpls simply do that by double clicking on the simpls you want to edit and then select the edit options present there to modify your simpls.
Key-Features of this App
Completely free and easy to use.
Helps you to create your own fantastic and awesome website.
Creates a simple and beautiful social website in less than 60 seconds.
Get to know about other existing social websites.
Communication with different users.
Conclusion
Simplifyer is a must try app for those who want to have their own small social websites. This is one of the best way to know your skills if you like social websites a lot. It enhances skills if you try for becoming the best. This is really a very good way to learn running social websites. You can go to the below link to have this App.
Download Link: Simplifyer For Windows 8