Are you an ardent anime fan who has encountered the annoying Crunchyroll Error Code Shak-1001 on a Windows computer? Not to be concerned! We have compiled a comprehensive blog to assist you in promptly overcoming this obstacle and resuming uninterrupted viewing of your loved anime series. During crucial moments of your favorite episode, the mysterious Shak-1001 error often occurs, disrupting your anime pleasure. However, do not fret, as we have a variety of tried-and-true solutions to address this network and buffering-related issue.
Explore our step-by-step troubleshooting procedures, which have been meticulously designed to address the error's fundamental cause. From optimizing your network connection to resolving server-related issues, this guide is your best friend on the road to Crunchyroll streaming perfection. It's time to reclaim your Crunchyroll account and immerse yourself in enthralling anime adventures while gaining the knowledge necessary to combat any future errors. See: Fix Disney Plus Error Code 83 in Windows Computer.
Crunchyroll Error code shak-1001 in Windows Computer
Here is how to fix Crunchyroll Error code shak-1001 in Windows Computer:
Check Server Status
When you encounter issues with Crunchyroll, the first action you should take is to check the server's status of the Video streaming, Server connection, and Website.
Go to this website.
See if the server is not down.
In case, you find outage, wait for the restoration or lodge a complaint on support page.
Download the animation and try running video in Offline Mode
By avoiding network-related difficulties that may cause faults while online streaming, downloading the episode in offline mode may resolve the Crunchyroll Error code Shak-1001 on a Windows PC. Preload of the material onto your device lessens the reliance on real-time streaming by protecting you from the effects of connection drops and server issues.
This reduces the need for viewers to wait for the video to buffer, making for a more consistent and enjoyable viewing experience. During times of high internet traffic or network irregularities, the concerned error may prevent you from watching your favorite anime series online. Here are the steps to be followed:
 On Crunchyroll, locate the download icon next to the episode and click on it.
Access the downloaded content from the Downloads folder.
Make sure that internet is working perfectly
To fix shak-1001 Crunchyroll Error code on system make sure that the internet connection is working perfectly. You must look out whether it's reliable or not, has enough bandwidth, and does not show any sort of interference or router difficulties.
A stable network means smoother Crunchyroll anime streaming without unpleasant buffering issues or error codes.
Turn off Antivirus
Now, let's discuss how turning off your antivirus software may be the answer to your Crunchyroll issue. In extreme cases, your antivirus software may restrict its connection to the internet, leading to the aforementioned error message.
Temporarily disabled program can offer Crunchyroll without interruption and allow to broadcast favorite anime. Just remember to switch it back on when you need it for actual safety.
Press Windows + I to access Settings.
Go to Privacy & Security > Windows Security.
Click on Virus & threat protection.
Then, Click Manage settings.
Turn off Real-time protection.
Reset the Router
Solving the Crunchyroll Error code shak-1001 might be as simple as resetting your network. The router may be reset by unplugging it for a few seconds and then reconnecting it. When this happens, Crunchyroll streaming should be back to normal.
Power off the Modem or router.
Stay for 5 or more seconds and then turn on the device.
Try watching the animation.
Clear and reset the App Cache
It's important to have a look at the cache from the Crunchyroll app which may be leading to the abovementioned error. For that here's the procedure which you must follow:
Right-click on Start.
Select Settings.
Click on Apps.
Then select "Installed apps".
Locate Crunchyroll and click on "3 dots icon".
Select Advanced options.
Click on Reset and confirm the prompt.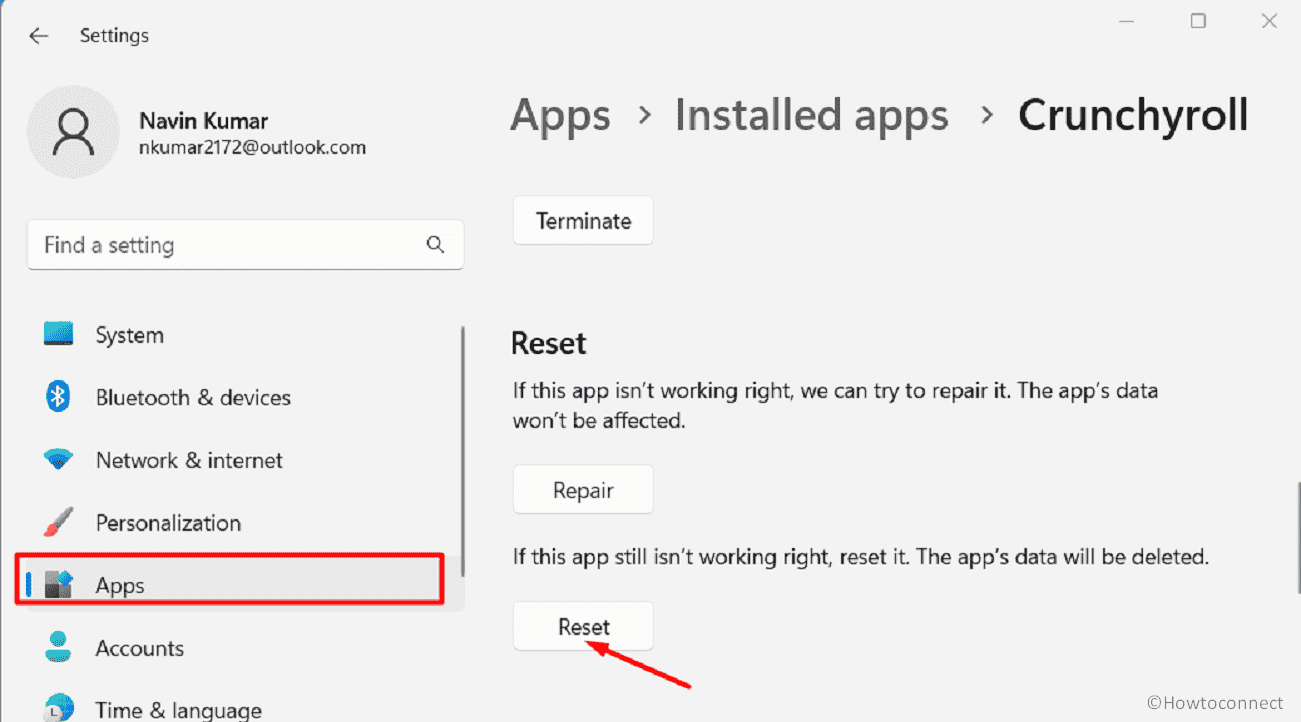 Close Crunchyroll and reopen the app.
How to Reset App on Windows 10 to Fix it
Remove Browser Cache (Chrome)
Yet to figure out the concerned Crunchyroll Error code shak-1001? Then, deleting your browser's cache and data could be the answer! Chrome is a popular browser for online streaming.
For further understanding, think of the cache as a storage box where your browser saves temporary data to speed up future page visits. However, these files might become obsolete or damaged over time, resulting in annoying errors like the one mentioned above. So, here are the steps to be followed:
Open your browser.
Click 3 dots icon (upper right corner).
Hover More Tools.
Click Clear browsing data.
Select Advanced tab.
Click Cookies and other site data.
Check all boxes.
Click Clear Data.
Relaunch the browser and browse Crunchyroll.
Empty Crunchyroll Watch Queue
Settling the Shak-1001 Crunchyroll Error code on your system might be as simple as clearing up your Watch Queue. Moreover, you may avoid the issue and enjoy uninterrupted anime viewing by clearing out duplicates and arranging your watchlist. As Crunchyroll is the place you go for nonstop anime fun.
On Browser
Log in at Crunchyroll.com.
Select Queue from the Menu icon.
Go to My Queue and delete all shows.
On App
Open the Crunchyroll app.
Navigate to My Account.
Click My Lists and unsubscribe from shows by clicking Remove from Watchlist.
Modify DNS Server address
Still, battling the Crunchyroll Error code shak-1001 message? Changing your device's DNS server might be the answer to all your problems. Therefore, adjusting this critical network configuration will allow you to watch your favorite anime on the software without being interrupted.
Thus, with this straightforward method, your journey through anime will go off without a hitch. Follow the steps given below:
Press Windows and R keys.
Type ncpa.cpl.
Press Enter to launch the Network Connections window.
Right click on the running adapter and select Properties.
Check Internet Protocol Version 4 (TCP/IPV4).
Click on Properties.
Check the option Use the following DNS server address.
Enter the following IP addresses

:
For Google: 8.8.8.8 or 8.8.4.4
For Cloudflare: 1.1.1.1 or 1.0.0.1
Click OK.
Close all the Windows and restart the device.
Update the Crunchyroll App
Another easy yet effective solution is to just download the latest version of the Crunchyroll app. Now that you know how to eliminate those annoying interruptions, here are the steps to be followed:
Click on the Microsoft Store icon from Start or taskbar.
When the app opens, click on the Library from the left side.
Go to the right and click on Get updates.
After Crunchyroll is updated open the app.
Reinstall the Crunchyroll App
Another possible way to resolve the error is to get rid of it by reinstalling the Crunchyroll software. Now you can watch anime without any interruptions, at last!
Open Settings (Winkey+I).
Select Apps.
Click Installed apps.
Find the Crunchyroll in the list.
Click on the 3 dots icon (ellipsis).
Select Uninstall.
Then Install Crunchyroll.
Open and re-enter account info.
Tweak the Video Quality
As a final resort, you can also try lowering the video quality which can be viable in resolving buffering-related issues which might trigger the Shak-1001 error. However, to ensure a smooth and uninterrupted anime streaming on Crunchyroll all you need to do is simply adjust the video quality settings in either the app or browser.
Run the animated video you are watching.
Click on the Setting cog from the lower right part.
Select Quality.
Choose from 240p, 360p, 480p, 720p, 1080px, and Auto.
We hope with these 11 ways you will be able to effectively and efficiently fix Crunchyroll Error code shak-1001 in your Windows system.
Methods:
Check Server Status
Download the animation and try running video in Offline Mode
Make sure that internet is working perfectly
Turn off Antivirus
Reset the Router
Clear and reset the App Cache
Remove Browser Cache (Chrome)
Empty Crunchyroll Watch Queue
Modify DNS Server address
Update the Crunchyroll App
Reinstall the Crunchyroll App
Tweak the Video Quality
That's all!!
Repair any Windows problems such as Blue/Black Screen, DLL, Exe, application, Regisrty error and quickly recover system from issues using
Reimage
.