Whether smartphones or PC, the increasing number of apps and their notifications might be your concern of distraction. Fortunately, Windows 10 Spring Creators Update introduced a wonderful new feature – Focus Assist. It helps you to enable a Do Not Disturb (in short DND) mode on your computer. The basic purpose of this DND is to minimize or completely stop notifications when you prefer to avoid disturbance during your work. 
In the upcoming release of Windows 10 version 1903, Microsoft plans to come up with a smarter and more useful version of Focus Assist. You will get an option to disable notifications while you study, watch videos, or do any task in full screen. In short, to customize Focus Assist in Windows 10 will be more fruitful than ever.  
How to Customize Focus Assist in Windows 10
Before you proceed to learn how to customize Focus Assist in Windows 10, it is important to understand what is it?
There are various DND software programs for Windows 10 devices but Focus Assist is different. In addition to the features of usual Do Not Disturb applications, it also secures a computer from receiving the distracting notifications. Focus Assist further presents you with an opportunity to customize it as per your requirements.
Moreover, it has some advantageous modes which allow you to schedule this feature according to the calendar. Once you get a clear idea, let's delve into the procedure to customize Focus Assist in Windows 10.
Enable Focus Assist in Windows 10
First of all, you need to turn on Focus Assist in order to explore a wide range of see and hear notification options. Configuring them will eventually help you to keep a focus on your ongoing work. The remaining notifications will go directly to the Action Center. However, you will always have the option to watch them later.
Through Windows Settings
Step-1: In the Cortana search box, type Focus and select Focus assist settings. 
Step-2: As an alternative, hit Win + I hotkeys in order to open Windows Settings. Select System category.
Step-3: Go to Focus assist on the left sidebar of the following page. Switch to the adjacent side and you will notice three options.
Off – It lets you see all the notifications sent by all the installed applications moreover contacts on the screen. 
Priority only – When you go ahead with this one, it provides you various options to customize the notifications.
Alarms only – This will stop you from receiving all the notifications except Alarms. This feature is the same as in smartphones.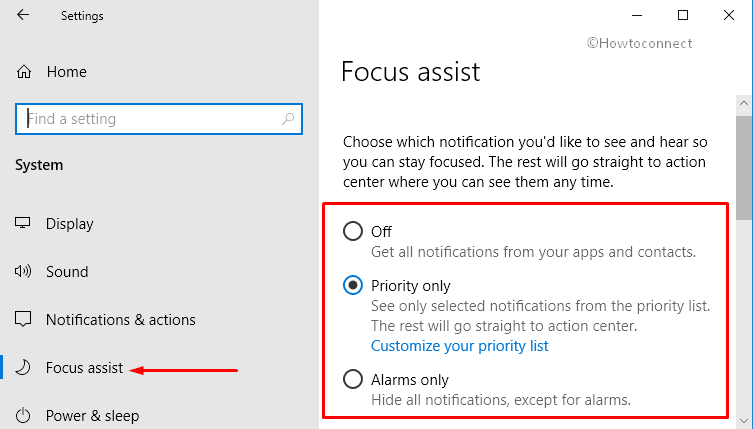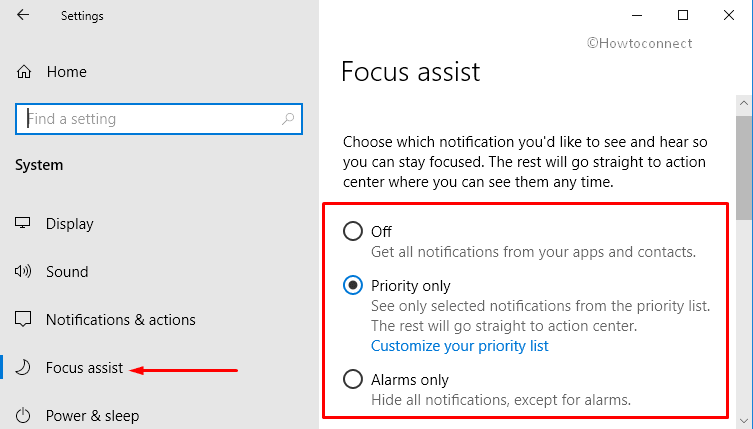 Via Action Center
Go to the extreme right corner of the taskbar and perform a right-click on the Action Center icon.
Hover the cursor on Focus assist. This will show three options Off, Priority only, and Alarms only.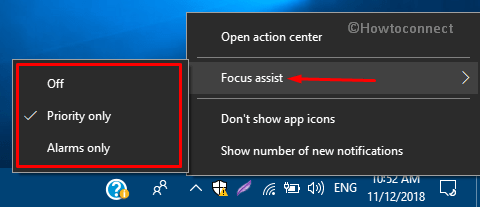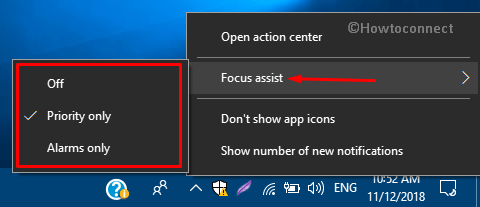 The tick mark against the mode will indicate your current notification settings.
See the way to Clean Crowded Action Center.
Using Quick Action Tiles
Press Win + A hotkeys jointly to launch Action Center. Alternatively, you can also click its icon on the far right of the taskbar.
Click Expand if the tiles are collapsed.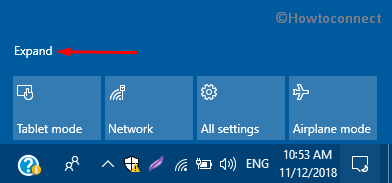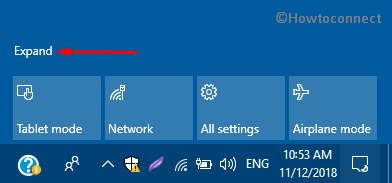 Moving ahead, hit the Focus assist tile until you notice and choose the mode you prefer to use.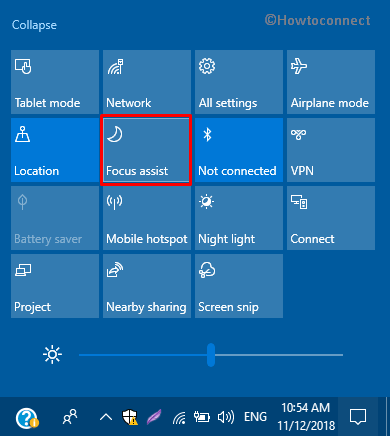 For reference, read Remove or add Quick Actions Tiles in Windows 10.
Customize Focus Assist
To configure and manage Focus Assist in Windows 10, first of all, navigate to built-in Settings app => System => Focus Assist.
Shift to the right pane and choose the second option namely "Priority only". Thereafter, do a click on Customize your priority list as shown in the below picture.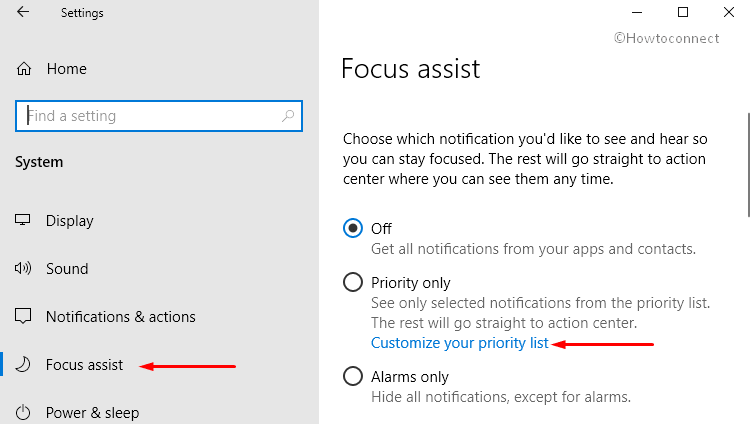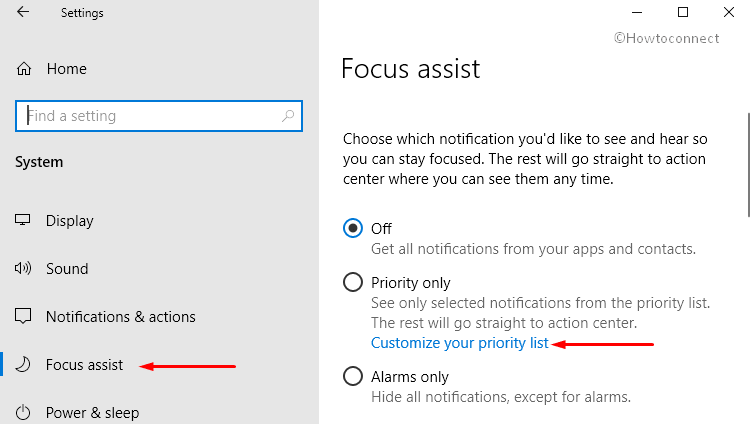 In this list, you get the chance to select and manage Calls, text, and reminders, People, and Apps notifications. You can choose the apps and their options on the basis of preference.
Calls, text, and reminders
This option works only when you install Cortana on your "Android handset". Furthermore, it will also function only when you link the same account on both the smartphone and PC. So, whenever you miss a text or a call on your phone, the digital assistant will remind you about the same on your computer. In addition, it provides you with the ability to get all or one of the below-given notifications as per your preference:
Incoming VoIP calls and calls from a linked phone,

Incoming text from a linked phone,

Reminders, regardless of app used.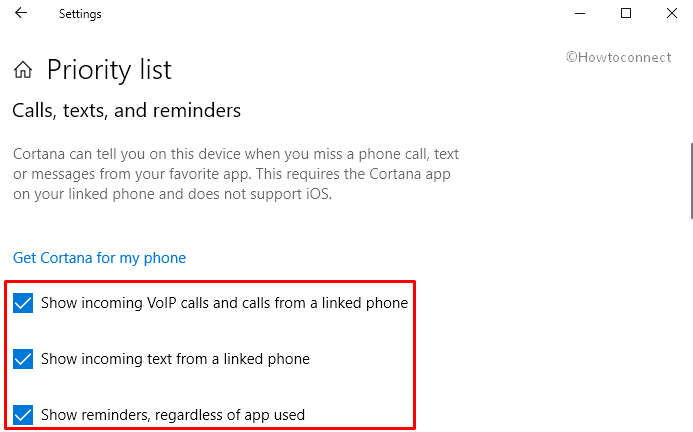 People
It works with every app of Windows 10 synced with the contact book and displays notifications for them. You get the option to choose contacts for whom you want to get notifications. This feature is fully compatible with applications such as Skype, Mail, Calling, Messaging, and others. However, you can also select to view the notifications from the pinned contacts in the Taskbar. 
Click on the Add contacts button as shown in the below picture.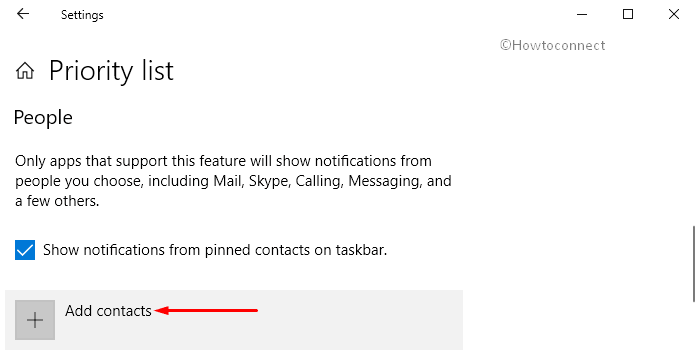 This will launch People app, choose the contact and it will immediately get added into the "Priority list".
In case, if you ever wish to get away with any contact, then select it and click Remove.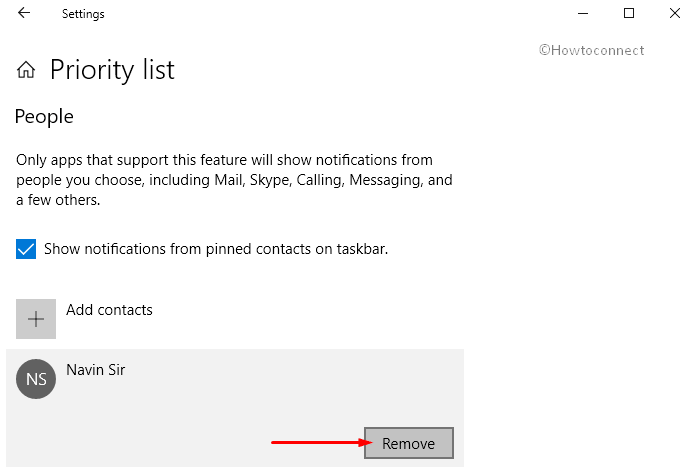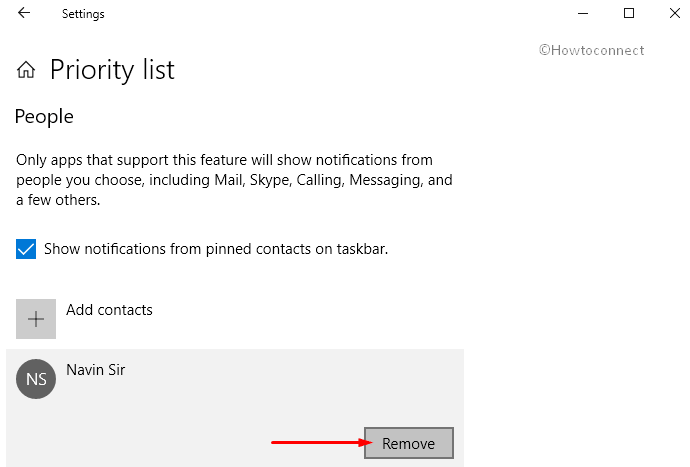 Apps
Apps option provides you with full-screen experience. It includes games as well as movies on VLC or Netflix. 
So, do a click on the Add an app button and pick up your preferable program.
For certain reasons, if you don't prefer any programs to notify you while Focus Assist is On, then you can simply remove it from the list. Simply select the application and click Remove.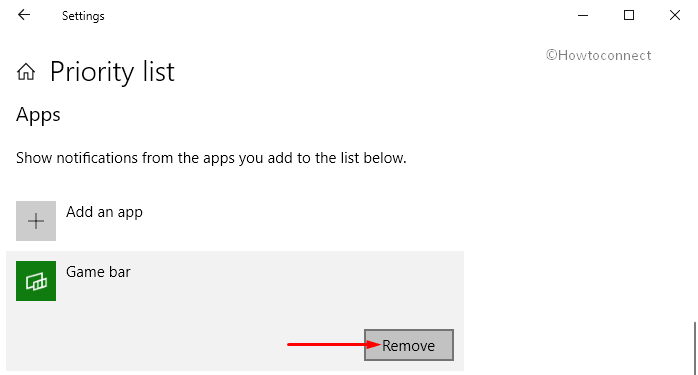 Set Automatic Rules in Focus Assist
To minimize the notifications interruptions, Focus Assist presents you five different activities to choose from. Once you choose the time and activities, you will not be disturbed. Let us explore each of them in details.
1. During these times – This option gives you the ability to schedule the Focus Assist feature. On your selected time, it will get enabled all by itself. So, first toggle ON its switch and do a click on it to further customize the timings.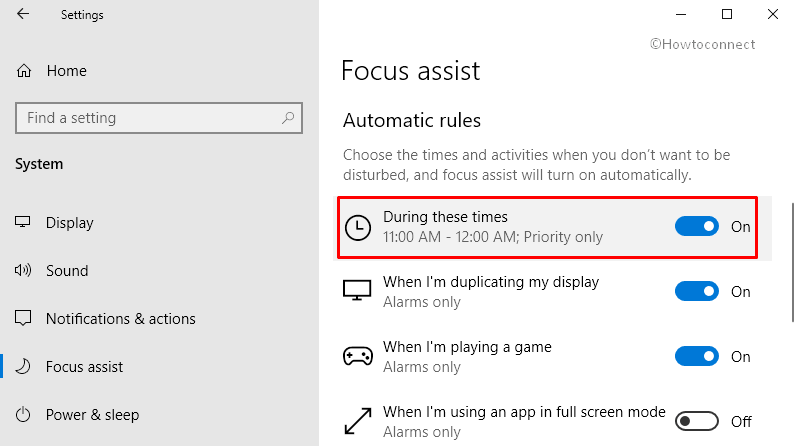 Click Start time, scroll up and down to choose the hours and minutes. On your chosen time, Focus Assist will turn on all by itself.
Hit on the End time box and assign the timing as per preference.
Click the Repeats drop-down and pick up your choices (Daily, Weekends, and Weekdays) accordingly. For example, if you prefer the feature to turn on on weekends only, then go ahead with the Weekends option.
Focus level is the next customizable option. Here you can choose Priority only or Alarms only option.
2. When I'm duplicating my display – Whenever you duplicate the display to the external monitor, choosing this option will stop popping the notification.
3. When I'm playing a game – Hide the pop-ups when you play a fullscreen game.
4. When I'm using an app in full-screen mode – This option won't be limited only to videos, the notifications will not appear whenever something runs in the full screen, irrespective of the kind of activity. For example, after you enable this option, no notification will appear when you watch videos, read documents, give presentations, or do something in full-screen mode. This is an advantageous feature, especially while you watch movies. It reduces all the distractions and makes sure that you concentrate on the activity of your computer screen without any interruptions. 
5. When I'm at home – You will not receive any notifications when you are at home.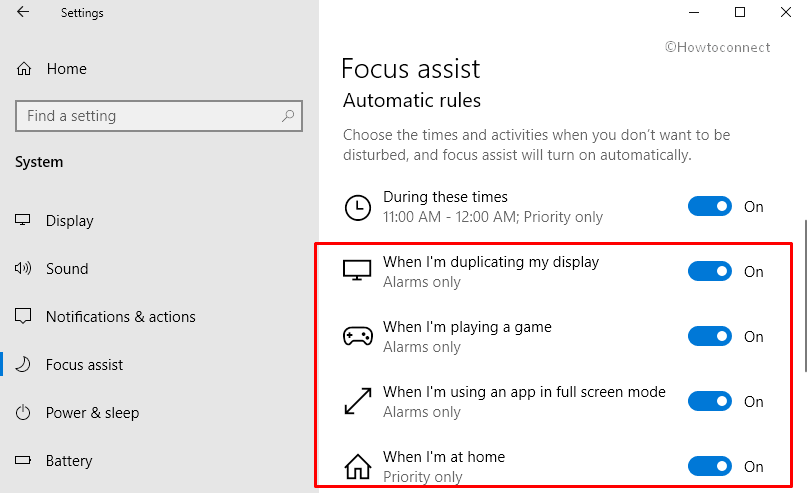 If you are asked to name one quality that is hardly found in humans nowadays, what will be your answer? Yes, it's concentration; the ability to focus. The technological development on one side is beneficial and on another side, has caused so many disruptions that it is very hard to concentrate. But hopefully, you will now be able to completely Customize Focus Assist in Windows 10 pretty simply.