Deskhop is a very beautiful and interesting app of Facebook which allows you to take control of your friends screen or share your PC screen to your Facebook friends. This app is a free software available for both Windows as well as Mac. You can share windows PC to Mac and Vice-Versa using this amazing app. You can do all sorts of work using this app like: running programs, access and run files, change settings etc. It is similar to that of a remote desktop application. The only difference here is that you are doing the same function using a browser while the remote works on the basis of IP address.
Once the desktop is shared, it seems both are are working together on a similar desktop looking and working all together. Whatever seems to be running actually runs from inside the web-browser. Note that, this all could be functional only both users are ready to do so. They have to grant its permission. Before doing this, you need a small client to download. This can be automatically downloaded once you share your screen with someone or take the control of your friends desktop.
The user interface of this app is very simple and easy to use. A screenshot of this software is shown below: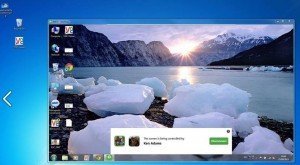 How to have this app installed on your windows machine
You can have this app from the link provided at the last of this article. Opening the link, you will see an option of Go to App. Once, you click on this button, browser will ask to share your basic info as well as email address (katra……@yahoo.com). Allowing these two options, it will provide you a message which is like this " This app may post on your behalf, including people you bed helped by, people you helped and more". You can decide whether you are sure to move on or stop here. If you accept it, it will ask you about "Who can see posts this app makes for you on your Facebook timeline". Thus, you can decide the posts published by it could be seen by whom. You can select the Public option if you don't have any problem with this otherwise, you can opt for friends and Only Me option depending on your own personal interests.
How to share PC screen with Facebook friends using this app
If you are willing to share your screen with your friend all you have to do is to select the friend with whom you'd like to share your PC. Once you have selected your friend, click on the next button. Clicking on this will opens up a new window where you have to select whether you want to share your screen or take the control of your friends screen. When you are done with this, the last step is to download and install the client. Once this step is completed, you can start sharing your desktop or take control of your friends desktop. Remote screen will open up in an another window. Here, you can use the panel provided at the bottom to control everything you wishes to. There are some limitations too here when it comes to its well functioning and they are:
You cannot stream sound from the remote desktop
You also cannot share files between two connected desktops
Key Features of this App
Freely available software on your fb account.
Very simple and easy to set up. It takes not more than few mouse clicks to set up.
Remote applications could be easily managed using this app.
You can also change settings, run and play files of the shared desktop.
Access of windows to Mac and vice-versa is also allowed here.
Share your screen with any Facebook friend you wish to do so.
My Verdict
Deskhop is a very interesting app of Facebook and it does exactly the same as it advertise on its official site. This is a very good software for those who always fixes the computer in friend circle whenever some problems pop up on your friend's laptop. This app lets you use your friend laptop by allowing sharing his screen to you and thus you could easily solve the problem without going to his/her room. Thus it saves a lot of times as well as complications. This is a worth trying app.