FarmKill is a free windows 8 app which you can have from the Windows 8 app store. This is a fun and very admirable game aimed to increase your skills as well as taking decisions instantly whenever it is needed. You have to take a decision in the right way as you have to save your city from the incoming zombies. You have to save your farm in any possible ways, otherwise, you would be finished and the game would be over. Thus FarmKill gaming app is a combination of taking decisions in complex situations along with spending times on increasing defending elements like deadly flowers, animals as well as unlocking explosives, weapons, and mines.
The user interface of this app is very lovable. The choice of colors for this app is really awesome. This is a very simple and easy to understand the game. A screenshot of this gaming app is shown below: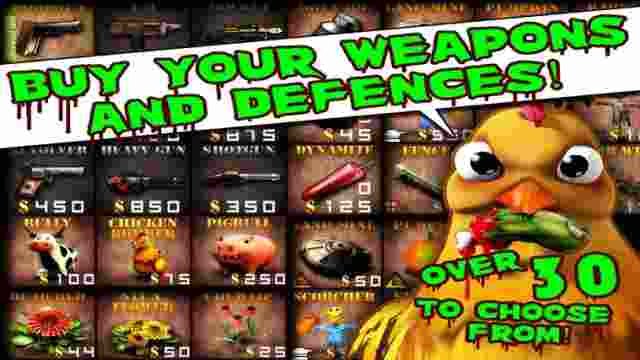 You can have access to FarmKill app from the link provided at the last of this article. Install this app properly on your windows machine. Once it is done, you can run this app from the start screen. Running this app will open up a window like the above shown image. Here, in this picture, you can see the collection of weapons, explosives, and mines which you need to blow up zombies in a large number. This gaming app is based on a story which is described below:
FarmKill Game Play
A city got infected by zombie and you live in this city. Three survivors have somehow escaped to a farm. You would be them. So basically you will be the survivors here in this game and you should be well prepared for the zombies to come and you nailed them down with your wit and knowledge. Here, you would be helped by an old country man which will help you in killing zombies and along with that also supplies artillery guns, mutated farm animals as well as plants like chicken bomber, stun flower, mad cow, etc. Zombies could attack you only at night, thus you have to save yourself at night. In the day time, you are supposed to build up all the necessary things to slow them down. You can also collect coins at day time which would help you in purchasing deadly weapons and explosives.
How to play FarmKill Gaming App
FarmKill gaming app is no doubt contains really a good level of difficulty. Initially, the game is at moderate levels, but as the game proceeds, the level starts on increasing from sending normal zombies which can walk and drool approaching slowly to your farm to fast incoming zombies with additional features. You are supposed to hide and fire them from a distance. They can be dead in one to two bullets depending on where it has been placed in the zombie. At higher levels, these zombies become very aggressive and bigger. Some of them might take multiple shots to die. Big leaches could also be there to attack you in advanced level.
In order to fight and kill them all, you are provided several arms like kick ass guns, ammo, gas bombs, mines, explosives, nitro bombs, fat boy, nuclear bombs, deadly plants and animals. All the above mentioned arms are initially locked and could be unlocked once you complete a certain level. You could also use the coins collected at day time to collect them or buy them using real money. However, purchasing weapons for real money is not a good thing if you wish to increase your internal skills in this game. There is only one location and thus you can't move from here. There is only a single house with no other players. You are only supposed to hide and shoot here on this farm. In case, if any zombie enters the house present at the center, your one survivor would die soon.
You can save, restart, play previously completed level at any time of game. Use weapons, explosives in a right way whenever there is need of it otherwise it would be wasted and when the time comes, you will be out of this and you will be in trouble this time. So use them carefully watching when and where to attack focussing on killing maximum number of zombies.
Note: FarmKill gaming app allows you to move those items which can save your farm and you as well to another place after completing each level. Old man provided in this game is very helpful. He not only provides you the proper support but also guides you throughout the game on how to shoot zombies and remove them all at a good speed.
Key Features of FarmKill app
Contains 28 challenging nights to survive
9 different guns to shoot incoming zombies towards you
Build fences and barricades to slow down their incoming speed
Explosive animals could be raised to defend the farm by killing the zombies
Unlock weapons and defensive items every night to survive yourself even harder
Explosives and mines are there used to blow up the zombies
Deadly flowers could also be raised on your farm to resist against zombies
Collect golden chickens to survive a night being unscathed
To get more fun, you could buy extra cash and super items
A complete package of fun, skill build up and challenges
Final Note
Farmkill is a nice zombies killing app aimed to improve your skills and face challenges and solve them in the least possible time. Gameplay, Music, graphics all are designed to a very promising level. You will love shooting zombies and killing them in different ways. Overall, this is a fun game and you should have FarmKill app if you love shooting games. Write your views in the comment box provided below:
Link: FarmKill