You must have seen Grayed out Desktop.ini files everywhere in Windows 10 whether it is Desktop, Picture, Music, or others. This unnecessary file keeps showing up despite we never use. So the file becomes mysterious for us and increases our curiosity as well about what it is and why it is appearing in all folders.
First of all, you must be assured that Desktop.ini is not a harmful file or virus. Windows generates this file automatically and it is responsible for the display of folder.  Desktop.ini is by default hidden but start appearing when you make a change in folder Settings. Recently I myself noticed desktop.ini visible everywhere when I started my Windows 10 PC. So I decided to do a short research on this file and I am providing here the information accordingly.
Desktop.ini Files Everywhere In Windows 10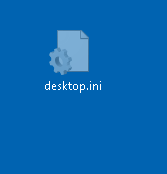 What is the mysterious Desktop.ini?
Desktop.ini is a Windows generated file and works for the custom appearance of a folder. When you customize the look of a folder the file determines its appearance. If you are new for changing the appearance of a folder, see the screenshot.
When you apply a new look you will find Desktop.ini keeps showing up.
Why the Desktop.ini doesn't show in all Windows 10 computers?
Desktop.ini keeps appearing on your windows 10 desktop but you don't find it on everyone's. The question arises why the file exists on a particular computer. The answer is this file is hidden by the inbuilt nature of Windows 10. But sometimes, when you customize a folder, the Folder option advanced Settings itself changes and it becomes visible.
How to make Desktop.ini invisible?
Since Desktop.ini is not a trojan or virus so there is no need for elimination of this file. So far as the question of your discomfort, you can change the settings to make it hidden again.
How to Hide Desktop.ini Files in Windows 10
Step 1 – Click File Explorer icon on the taskbar.
Step 2 – Once File appears on the screen click View at the top. This action will open the ribbon in View menu.
Step 3 – Click Options icon on the ribbon of File Explorer.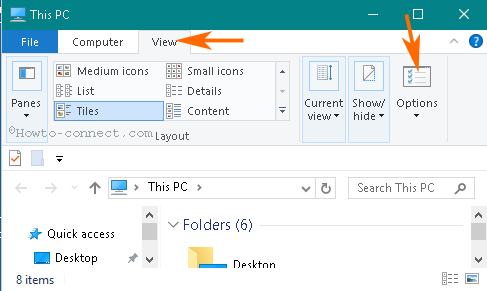 Step 4 – Folder options wizard appears on the screen. Click View tab in the middle.
Step 5 – proceed ahead to the Advanced settings section and Locate "Hidden files and folders" option in this field. Check the round cell before "Don't show hidden files, folders or drive". Finally, click Apply afterward Ok to save the setting.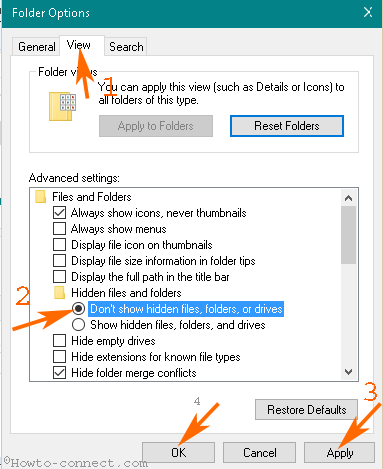 Step 6 – In the alternate, you can check "Hide protected operating system files (Recommended)". Lastly, Click Apply subsequently OK.
Once you have tweaked the setting you experience the Desktop.ini  files vanished from everywhere. In fact, the files still exist but you can't see them.
Conclusion
So this is all about you see Grayed Out Desktop.ini Files Everywhere In Windows 10. Still, you want to know about this mysterious file you can ask through a comment.
Repair any Windows problems such as Blue/Black Screen, DLL, Exe, application, Regisrty error and quickly recover system from issues using
Reimage
.