How to Discuss / Complain Edge Issues to Microsoft – The Browser passing through the age of Development suffers bugs and flaws. In this situation users and developer's participation on a platform certainly helps to make it more utilitarian. Right in this way to pay more attention to User's response A web page has been aired and named EdgeHTML issue tracker. On this web page, developers and users can lodge complaints, share their thoughts, demand web platform and discuss on varying matters confronted on Microsoft Edge.
How to Discuss / Complain Edge Issues to Microsoft
First of all, you should travel to EdgeHTML Issue Tracker page and sign in to your Microsoft account by using the "Sign in" link at the supreme right end of the page.
After signing in, to report your own fresh issue, click or tap on "Open new issue" button that appears on the right corner of the page.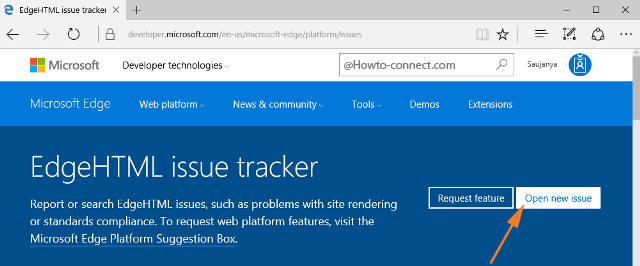 Now, on the next page, you need to enter the fields with requisite information and once you are done, click or tap "Open this issue" button.
While reporting your problem, you can decide on its privacy and can opt between "Public" and "Only visible to myself, Microsoft employees".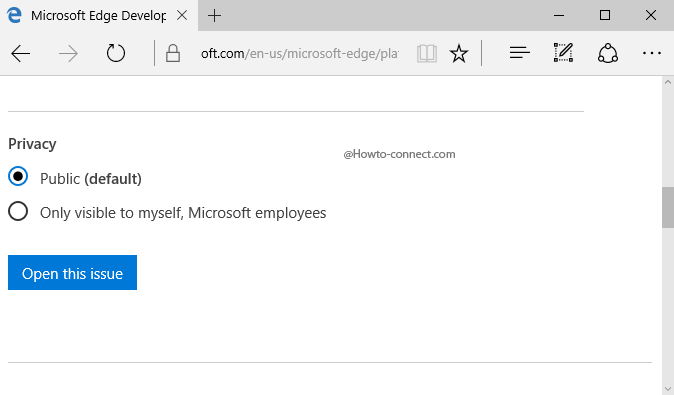 Back to the main page, scroll little down and you can see three tabs – "Recently updated", "Participating" and thirdly "My issues".
The "Recently Updated" tab represents the lists of problems that are being uploaded very recently and when you click on one of them, you can view the actual discussion.
While viewing the details of the issue and if the same is persisting on your Edge browser also, you can click "+Me too" button on the left side and be a part of the report.
The "Participating" tab will showcase you the list of issues on which you have voted. followed or commented and makes your tracking more smoothly.
The last tab of "My issues" will exhibit all the issues posted by you.
Microsoft had made the road easier for the developers as they can Discuss / Complain Edge Issues to Microsoft straight away in Microsoft Edge Issue Tracker and can have the Edge engineers directly solving their problems. Users are getting many advantages with the Issue Tracker – like they tend to see the clearer picture of the issue, can report the issues straight away and can have the benefit of engineers handling their issue.