Download All Group Policy Settings in Windows 10 as Spreadsheets. – As Windows 10 enters the market, the demand for this operating system is soaring high since its issuance. Currently, the number of users exceeds 14 million who have already installed it. One might think as to what new features have the company introduced to the business users. Hence, as an answer to this query, all Windows 10 Group Policy Settings as a spreadsheet has been delivered a little time ago for the users.
The spreadsheet includes the total number of policy settings for system and user configurations. Administrative template files incorporate all these policies. Group Policy is an integral element of Windows. When you modify group policy objects, you can customize the policy settings and implement alterations in the device.
How to Download All Group Policy Settings in Windows 10 as Spreadsheets
In this release, multiple files exist for download and hence follow the below-mentioned steps to download the spreadsheet(s).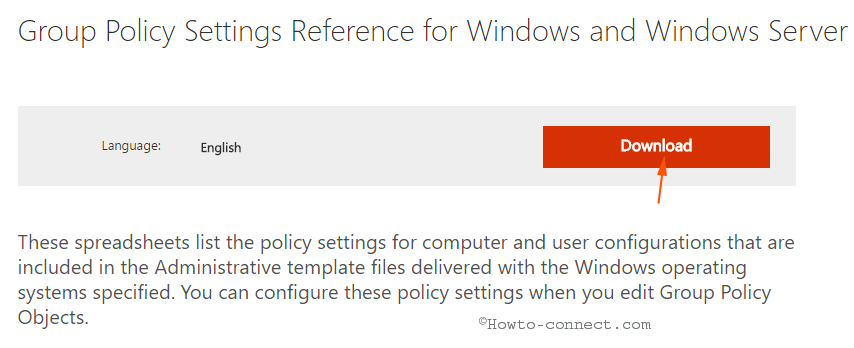 Step 1 – The download comprises spreadsheets for different operating systems.
Windows 10 users will use this link.
Step 2 – You will see a DOWNLOAD button, please click on it.
Step 3 – Clicking on Download will display a list of available spreadsheets. There is also a provision for you to download only a specific file rather than all files.
To choose a file, simply select the check box that appears to its left. If you wish to download all the spreadsheets, just select the checkbox alongside the main title File Name. This action will select all the boxes at once.
Step 4 – Once you input checkmark the desired boxes, the download summary showcases a numeral list of all the selected spreadsheet(s). Now, click on Next button.
Step 5 – Soon the downloading will commence for each file separately. 
Step 6 – If asked, click Save to save the spreadsheets on your device.
These spreadsheets offer you a filtering option. With this facility, you become able to filter the data as per your requirement to view a particular subset of data, depending on a value(s) available in one or more columns.
Conclusion
The prime use of these spreadsheets is that you can use it to change the policy settings. Another valuable function of these spreadsheets is that they also offer lists of registry key which get affected when the policy settings are changed. You can always use the Group Policy Settings search to know which registry key and value correlates to a policy setting. Unlike Group Policy Settings search, these spreadsheets put everything in one single place.