LastPass is recognized password manager utility software. It is available for Windows operating system, Mac, Linux, Android, iOS with mobile devices. LastPass has been also presented in form of internet browser extension.
Last Pass presents numerous modes of services to save entire your log on history firmly which helps you to access your accounts and services from everyplace. Thus Last Pass tool has presented as Windows 8 app. Now It can be downloaded from Windows 8 Apps Store. It is notable that we have also written some articles related to Windows 8 apps in previous time. These are How to Install Apps from Out of Windows 8 App Store, How to Buy Apps from Windows 8 Apps Store, Windows 8 Apps for Photo, Mail, Music, Weather, Store, etc. You may see these.

How to install Last Pass app in Windows 8?
Go to Windows 8 Apps Store from the metro charms search bar window.
Type Last Pass in the search box and find it from the store page.
Features of Windows Last Pass app –
In form of Windows 8 App, LastPass has come with an attractive User Interface. After installing from the Windows 8 App store, it requests to type LastPass User ID and Password. If you don't have an account of LastPass Then choose Create Account option to make a new account.
As soon as you sign in LastPass app in your Windows 8 from old ID and password, it will display information on your previous websites log on history. If you have signed with just created account then you have to add a new website. So right-click on the middle screen of the app and choose Add Site button.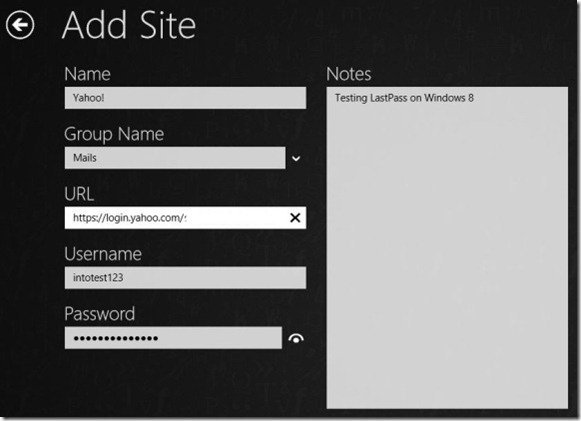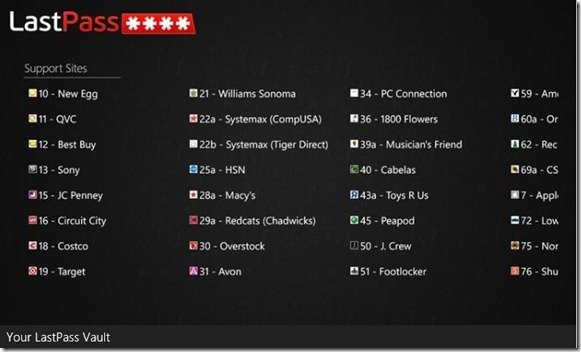 Now you have to type related information. You can add following email allied websites such as Gmail, Hotmail, Outlook and others in a Single group.
Advantages of LastPass Apps
When you add websites or email clients, LastPass app will help you to access safely.  There is an enormous directory of websites carried through LastPass. you can start all the websites openly from LastPass app.
See details about Last Pass App