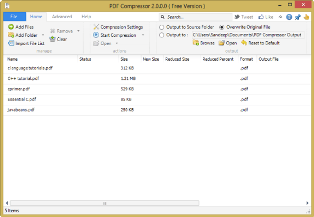 In reality, PDF is a trendy format to save any documents in secure mode. Safe and secure nature of PDF file makes itself carry or transfer it on internet without any problem. All Inclusive users have lone choice to keep their files intact through PDF format. Variety of applications are developed to convert Doc, XLS. PPT files to PDF file. Though PDF files are well suited format to keep documents in similar state it occupies more space on hard drive in comparison to other file formats. Certainly, it is issue to take about before existence of PDF Compressor application. I am about discussing the features as well as installing process of PDF Compressor in your system.
PDF Compressor is a freeware Windows Tool. The PDF Compressor is compatible to all Windows versions above than Windows  XP. It comes with easy to use and ribbon based interface. The PDF Compressor works efficiently with all types of PDF files. The freeware PDF Compressor shrinks PDF files to reduce their actual size without losing file contents. To use PDF Compressor application, you need to download it from below link. Once process of downloading completed, you are ready to go.
Click on to PDF Compress application then after click on 'Add Files' button and select PDF file, which you want to compress. Once you do with default setting you will have to click on Start Compression button. After completion of compression process, you may view the difference between actual PDF file and new compressed PDF file.