Windows 10 supports a wide range of third-party programs that help you to personalize your desktop. One such amazing application is Splashify that offers a huge variety of wallpapers. It provides you photos organized into few categories for your convenience. When you use Splashify to Set Stunning Desktop Wallpapers, it lets you search appropriate pictures based on keywords.
Furthermore, this specific program provides you with a desktop client for Unsplash. It is a popular website where enthusiasts and photographers upload their amazing pictures. So, when prefer to use Splashify to Set Stunning Desktop Wallpapers, you don't have to actually install the utility. Simply browse the images from Unsplash and pick up the desired one.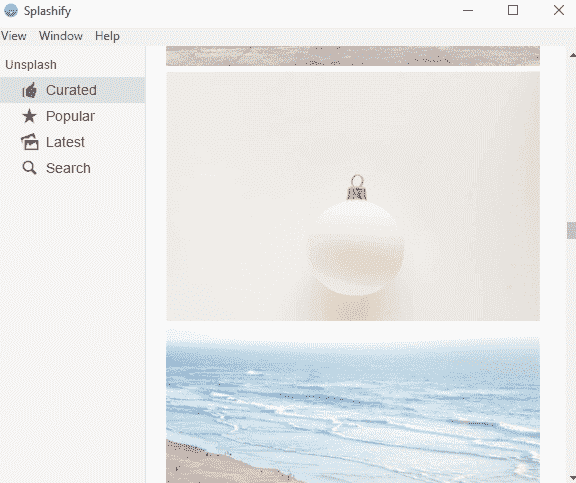 So, let us delve into the main section and see how this freeware works on Windows.
How to Download Splashify to Set Stunning Desktop Wallpapers on Windows
Download Splashify for Windows
Step 1 – Head to the below-given link and click Download Now button to grab this wallpapers tool. The size of the file is little big, more than 30 MB.
https://splashify.net/
Use Splashify to Set Stunning Desktop Wallpapers
You can directly access Splashify without installing it on your computer. You can go through following steps to use it.
Step-1: After completing the download process, open the program by clicking on it. If Open File Security Warning dialog evokes, click Run.
Step-2: This immediately launches Splashify on the PC screen. On the left pane of the tool, you see four groups by the name of Curated, Popular, Latest and the last one is a Search. You can search any wallpaper by name.
Step-3: On the right side, you can notice different wallpapers. You can scroll down the wallpapers list to explore more images. Select any one of them according to your choice.
Step-4: Upon opening, you can notice the original size of the image and its resized size. The tool automatically adjusts the size of the wallpaper as per your desktop resolution.
Step-5: Now, on its right corner, you see options like Set Wallpaper and Close.
Step-6: Click on Set Wallpaper and the downloading will commence. The wallpaper will also be set as current desktop background. You can exit the photo by clicking on Close.
Step-6: Repeat the same procedure for others too.
Features of Splashify
Splashify comes up with a bunch of super attractive features. Let's go through its features one by one.
It's a lightweight as well as user-friendly software program. It allows you run it directly even without installation.
Downloaded wallpaper is set automatically as desktop background. You can also browse other categories from Unsplash.
A huge amount of various wallpapers but categorized differently.
The program is super easy to use. It resizes according to desktop resolution automatically. You don't need to put much effort in resizing it.
Awesome collection of wallpaper subjects like "moon and stars", "Christmas, snow and winter" as well as "Yosemite".
Conclusion
Some wallpaper creates monotonous feeling while working for a longer period of time with PC. Splashify offers a variety of stunning as well as amazing wallpapers. Being much user-friendly program and having variations, it has already won the hearts of users. We have discussed ways of uses as well as features of it. You can follow the mentioned link in order to download Splashify to Set Stunning Desktop Wallpapers.