Do you often get disturbed by the videos that automatically start playing when you visit certain websites in Chrome? These are mostly advertisement and promotional items and act as the largest source of income for the hosts. Moreover, the videos are so annoying for the users when they start playing all by itself. But using AutoplayStopper, an extension of Chrome, you can gracefully stop videos autoplay on this browser.
AutoplayStopper is an official software extension. It was first originated by the author of FlashStopper (one of the add-ons of Firefox). Once you add it to the Chrome, its icon gets added to the browser's toolbar. It works on almost all the sites that play videos all by itself when you visit them.
Despite being nagging, auto-play videos suck the biggest part of bandwidth and pretty disturbing. Sometimes they also maximize your CPU usage. So, to get relief from these issues, Google put a step forward with a purpose to stop videos from autoplaying, including ads through AutoplayStopper.
Now, let us head towards the main section of the guide and learn more about this extension.
Stop video Autoplaying on Chrome Using AutoplayStopper
Download the Extension
You can easily download AutoplayStopper from the official store of Google Chrome browser. Pursue these below steps for getting this chrome extension on your PC.
Step-1: Visit the link from the Google Chrome browser on your computer.
Step-2: A new tab of AutoplayStopper opens up on the browser. You can see an option at the top right corner of the page ADD TO CHROME. Make a click on it to grab the extension.
Step-3: Another small popup for adding this extension to chrome appears on the page. Click on Add extension with a view to continue further.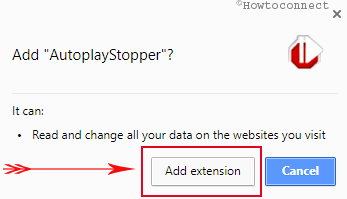 Step-4: Finally, you see a confirmation message after adding it successfully to the browser. An AutoplayStopper icon gets added beside the address bar (see screenshot).
Use the Extension
This Chrome extension has a very simple way to use but means a lot to the users. You can follow the directions below to stop autoplay videos from various websites.
Step-1: Open the browser extension by clicking on its icon.
Step-2: From the list of options, click on Settings. A new pop-up shows up on the new tab.
Step-3: AutoplayStopper allows you to disable videos for HTML5 and Flash video contents separately. Therefore, you can go to Autoplay section and reach out to Default Mode. A drop-down menu contains Disable Autoplay and Allow Autoplay options. So, select the one that you prefer to go with.
Step-4: For disabling Flash video contents, access Flash section and choose Disable Autoplay or Allow Detection from the drop-down menu of Default mode.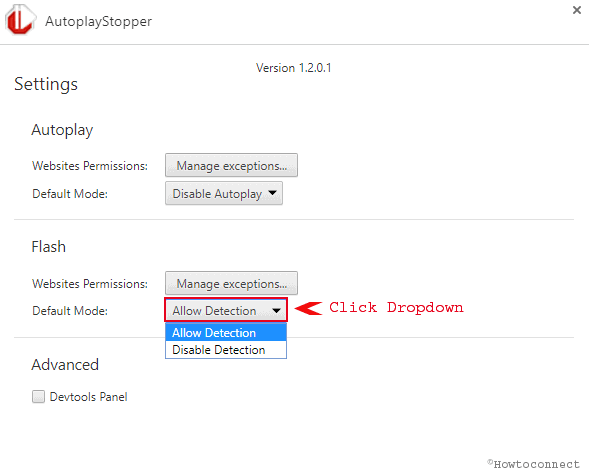 Accessing the other options, you can customize your extension settings as per preference time to time.
Features of AutoplayStopper
This extension is much user-friendly as it supports both of Flash and HTML5 video autoplay blocking.
If you block videos autoplay from a site, an icon will be shown so that you can easily understand which site is blocked from playing videos already.
After blocking a site, you can still be able to play the video by clicking on play button located on the video.
Experts found this extension working in all sites after research.
Conclusion
Playing videos automatically with sound is too annoying to accept every time. It distracts concentration, sucks internet data and CPU usage as well. This is a great business for the sites as they collect a big amount of revenue out of it. If you are tired of seeing this and opt to disable, you have AutoplayStopper extension powered by Google Chrome. Use this one and surf in your way avoiding ad botheration.