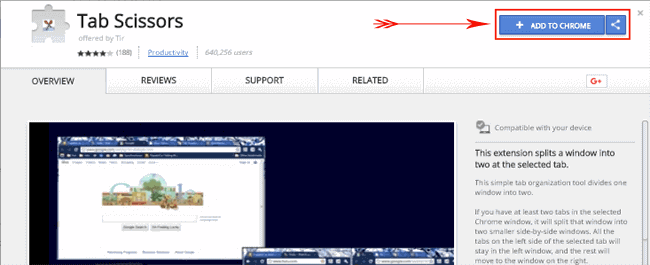 Accessing more than single web page simultaneously force you to open multiple tabs at the same time. Indeed, it is a right move to glance more than one web page within a fraction of time. Instance likes this puzzles you most to clear view of an existing web page. It leads you to open each tab in particular windows to watch. At that time you have single option to minimize existing windows then access to another one. Google changes the whole scenario after developing 'Tab Scissors' app.
Use Tab Scissors, Split Chrome Tabs into Two Windows
The 'Tab Scissors' is an organizational tool, which arranges opened tab into two Windows. If you have opened at least 2-tabs in Chrome windows the 'Tab Scissors' tools split into two smaller side by side windows. People who have to work with multiple tabs may get benefited through 'Tab Scissors' applications. Now, proceed to installation and functioning of Tab Scissors application are about to mention below: –
Tab Scissors application appears in Chrome Toolbar once you install it. Then You have to choose the appropriate tab from where you have to split existing windows. As soon as you decide it existing windows splits into two vertical parts. You may get Tab Scissors applications from Chrome Web store. However, you may easily install it from below web link.
Download Link