Procedures to download Windows Essentials and Get Movie Maker on Windows 10 with steps. – Windows Movie Maker is a simple to use video-editing application from Microsoft but disappointingly unavailable in Windows 10. This software comes with Windows essential package so there is a chance that you can grab it. When you get Windows Essentials the Windows Movie maker becomes accessible with a little tweak.
Windows Essentials is a host of Microsoft applications including many software such as blogging photo sharing and even parental control software. In Windows Essentials important programs are structured in such a way that they mingle well the other programs, with Microsoft Windows, and also with web-based software. But Microsoft has ended support for this application.
Windows Movie Maker by Microsoft is a software that lets its user edit any videos. It is an inclusion of Windows Essential which not only allows to make new videos and edit them but also posts them on web-based and social sites.
There is no simple program than the Windows Movie Maker for the people who make movies using Windows. Though the Movie Maker offers basic editing tools, it's sufficient for most of the users.
Microsoft officially discontinued Movie Maker without a replacement which led to a lot of confusion among the users. People tried searching for it everywhere without knowing the fact that it was a part of Windows Essentials.
If you wish to Download Windows Essentials and Get Movie Maker in Windows 10 then here are the step by step instructions. Just follow the step –
Way to Windows Essentials and Get Movie Maker in Windows 10
Download Windows Essentials
Microsoft, in powered with Windows computers, currently offers a program called Windows Essentials. This program commonly comes by default but in case it is not accessible you have an option to download the Windows Movie Maker software.
You can avail Windows Movie Maker application only in the situation you have downloaded the entire package of Windows Live Essentials. To install it, download Windows Live Essentials suite, and select Windows Live Movie Maker. Here you will find a step by step guide to download the Windows Movie Maker.
Step 1 – Go to this page to download the Windows Live Essentials 2012.
Step 2 – Windows Essentials 2012 has a store of 48 languages that include English, Dutch, French etc. Click on one language from the list.
Step 3 – The Windows Essentials will start downloading.
Install Windows Essentials
Step 1 –  Double click on the Windows Essentials setup file and allow to run it.
In case you have User Account Control enabled, it will prompt to ask for your permission before the installation procedure begins. Just click on the Yes button to give your consent.
Step 2 – Click the second option marked as Choose the programs you want to install. Since you want only the Movie maker out of all the options uncheck all the other programs except Live Movie Maker. After doing it click on the Install button to begin the installation of the software.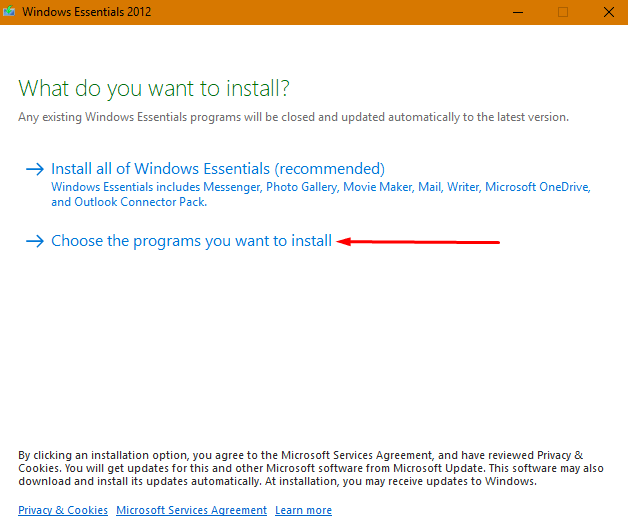 Once the installation of the Movie Maker is over, Windows Essentials is installed message will appear on the screen. Now you can use the Movie Maker by typing the same in the Start menu or in the Cortana search box and pressing Enter.
Conclusion
So now hopefully your hunt for downloading the Windows Essentials to Get Movie Maker in Windows 10 is over. You can download it now with the help of the guide and use this software. So edit video and cheer up.