Ways to Print 15 Plus Files from a Folder At Once on Windows 10. – Windows 10 gives this facility to print more than 15 files from a folder at once. This limit, however, cannot exceed 15 because Windows is configured to open, edit and print maximum 15 files by default. Exceeding this limit may cause the system to heat because a lot of power is needed to print and take action on more than 15 files at a go. Moreover, Windows automatically will stop you if you ever try to exceed this limit. You can follow an alike article How to Print Multiple HTML Pages at a time in Windows 10.
This limit is not bound to every system and you can even print more than 15 files from a folder. All you need is a powerful configuration which you can trust upon. Simply, change the number of files that you want to print at once. The system would automatically stabilize its power consumption and thus the process execution.
Here is a list of steps that you need to follow to print 15 Plus files from a folder at once in Windows 10. So keep reading.
Important – Kindly import the registry key before making a change in it. This will be valuable after any trouble occurs on your computer after the registry key manipulation.
Way to Print 15 Plus Files from a Folder at Once in Windows 10
Step 1 – Press the pair of Windows and R as hotkeys to open Run dialog box. Type Regedt32.exe in the available space in the box and hit Enter.
Or,
Press Window key and once start menu appears type regedit. This will be automatically written in the search box, so press Enter. This will open the Registry editor on your screen.
Step 2 – Navigate to the following path:
HKEY_CURRENT_USER\ Software\ Microsoft\ Windows\ CurrentVersion\ Explorer
Step 3 – In the right pane, look for the DWORD Entry named MultipleInvokePromptMinimum. Right click it and check if the value is set to 15. (Create a new DWORD entry if it is not there in the list).
Step 4 – Double-click on the DWORD entry (named as discussed above) and enter 16 in the Value data section.
Step 5 – Set the base value to Decimal to change that 16 value to 22. Click OK.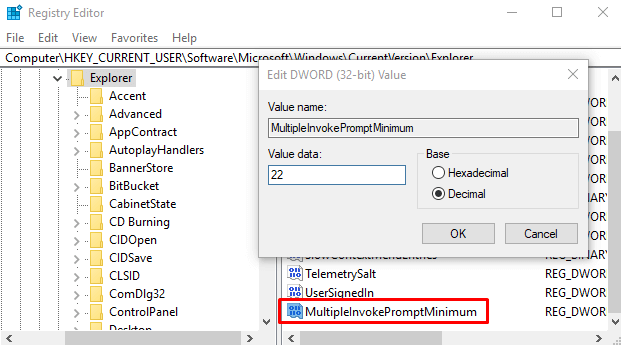 Step 6 – Close the Registry Editor and Reboot the system to implement the changes you've done.
Once you've restarted the system, you'll see that you can now print 15 plus files from a folder at once.
Note: Be sure to constantly give rest to your system by killing all the programs running in the background. Excessive loading or usage may heat up the system or crash your motherboard. So keep in mind the limit.
Hope this has helped you in achieving what you wanted to print the batch file in your printer. Let us know anymore working methods for the same (in case you know). Like and Share this article to help more in need.
Stay tuned for more.