Microsoft is increasing the number of tools in Edge gradually to lift the browser at the peak. Most Recently a Sync toggle underneath Sync your content heading got activated in the Settings pane in Edge. Enabling the Sync leads to Synchronize Favorites, Reading lists, passwords with Edge browsers across all your Windows 10 devices. The syncing characteristic of this Windows 10 browser helps in viewing the Favorite list and reading lists on all the phones and systems that operate Windows 10. But to make it happen, you have to sign in with the same Microsoft credentials on all the devices.
In the new era, Synchronizations has put a great impact on the tech world as it simplifies many of your tasks in an efficient way. So the inclusion of Sync your Content toggle on Edge is an obvious and advantageous activity that would be fruitful for you too. Hence, we are writing here How to Sync Microsoft Edge on Windows 10. Read the rest part of the post.
How to Enable Sync in Edge on Windows 10
First of all, assure to apply the same account details to sign in all the devices that operate on Windows 10.
Also, make a point to activate Sync in the Settings program. Travel to this path – Settings => Accounts => Sync your settings. On the opposite side, make the Sync settings slider toggle ON.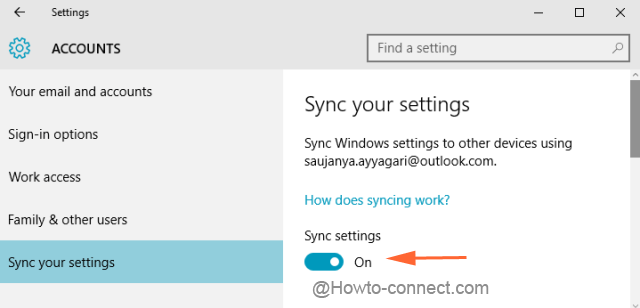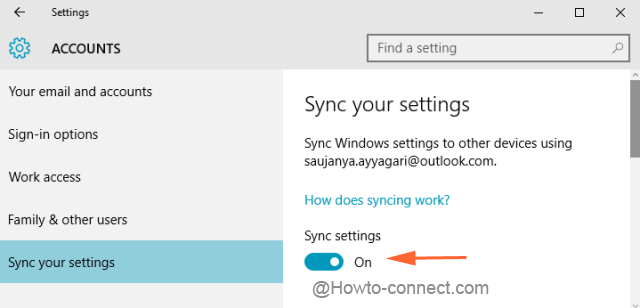 Click / Tap Edge icon on the taskbar to spread up the browser on screen.
Click More actions symbol comprising 3 dots on the uppermost and extreme right on Edge.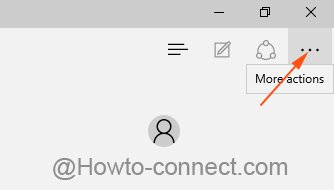 Click/tap on Settings at the bottom portion of the drop down.
Settings area unfolds. Scroll down on the area and look for Sync your Content. Toggle the slider to on underneath Sync to enable Sync in Edge.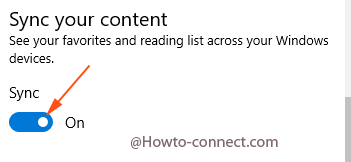 After these steps are followed accordingly, you can view the favorites and reading lists synced on all your devices that run Windows 10 OS. This feature was very much available previously also, but it was not functioning. The Fall Update of Windows 10 made it possible to sync favorites and reading lists in Edge browser. Let us share your reviews on how it is performing the sync functionality.