Users experience Error Status 0xc00012f Windows 10 or 11 often on their computers. This type of error is really bothersome and annoying because when you try to dismiss it by pressing OK, it appears again. Generally, the problem happens when you attempt to check for updates, it starts to download and later on installed automatically instead of being a defective one. As a result, when you try to open an EXE file from the disk drive, a popup arises showing an error message repeatedly. Finally, this issue ends up corrupting the files or programs you were trying to run.
Error Status 0xc00012f windows 10 is actually a hexadecimal error which is an inherent description of the Bad Image problem. Experts tried to find out the reason behind this notorious error as well as the way to resolve this over the years. The root cause of this error may vary from computer to computer.
Error Status 0xc00012f Windows 10 Bad image
For making the process smooth as well as easy, we will divide the procedures into several steps. Let's move on to the ways to resolve Error Status 0xc00012f windows 10 with no delay.
Way-1: Uninstall the Culprit Program
If you got this accident after installing a certain 3rd party program or software uninstall them.
Step-1: First of all, right click on Start and select Run option. Type appwiz.cpl in the Run dialog box in the available space and press Enter.
Step-2: Perform a double-click on the program that is responsible for Error Status 0xc00012f and selects the option Uninstall.
Navigate to the respective website for downloading freshly if the program is essential for you.
Way-2: Run SFC or Scannow
Step 1 – To open the Elevated Command Prompt start by clicking on the Search icon from the taskbar. Type cmd in the box and right-click on the result. Select Run as administrator from the list.
Step 2 – On the user account prompt select OK and allow the console to open. Once the black window appears, type SFC /SCANNOW and press Enter.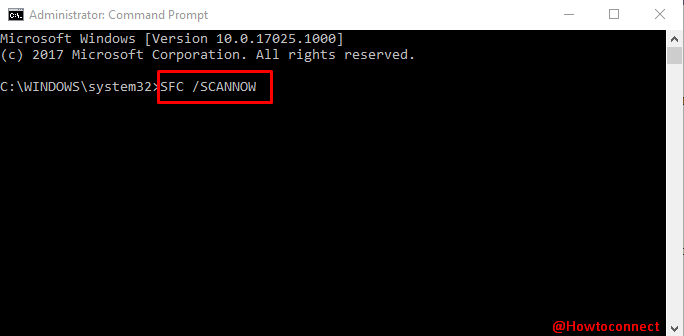 It will run a system check for all corrupted files and programs in the computer and based on the result, it will repair the errors automatically. It may take some time so sit tight and wait. When the process is finished, restart the computer.
Way-3: Uninstall the update causing 0xc00012f Error
A Microsoft professional revealed that Error Status 0xc00012f windows 10 can often be caused by KB2879017 update. Therefore, if you have installed it wrong, we recommend you to uninstall it with no delay. For uninstalling,
For Windows 10 –
Step-1: Launch the Settings program on the computer. You can get access to it by hitting Windows+I shortcut keys combination.
Step-2: Choose the Update & Security block on the application. On the Settings screen, click on the option View installed updates History from the right.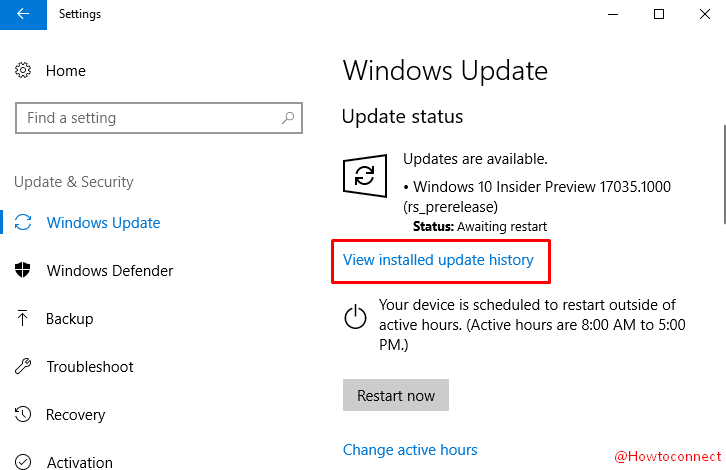 Step-3: Moving further choose Uninstalled updates on the next page.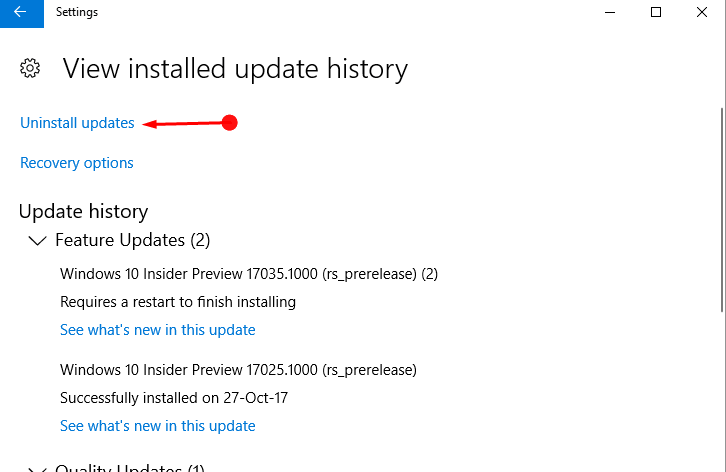 Step-4: You will be taken to the Installed updates, right click on the update you have recently received. Select Uninstall.
For Windows 11 –
Press Win+R.
Copy-paste – appwiz.cpl.
Hit – Enter.
From the Window that appears, click – View installed updates.
Go to the Microsoft Windows section and right-click on the update (showing in KB…).
Select Uninstall and follow the onscreen instructions.
We recommend you to restart your computer after uninstalling to start it afresh.
Here we make you remember that few users say that uninstalling Visual C++ Redistributable for Visual Studio 2015 has solved this problem on their computers. Hence, uninstall this feature using this wizard and ensure whether Error Status 0xc00012f in Windows 10 Bad image no longer exists.
Way-4: Use System Restore
Sometimes you may face difficulties in uninstalling the Windows updates due to some unknown errors. In that case, you can use a system restore point to fix the error to avoid getting mishappenings. But before proceeding, you need to ensure that you have created a Restore Point by this time. To do so,
Step-1: Click on the Windows Key and type Create a Restore point in the start search and Enter. Select the option System Restore on the System properties window. Choose Next on the wizard and select a previous dated convenient restore point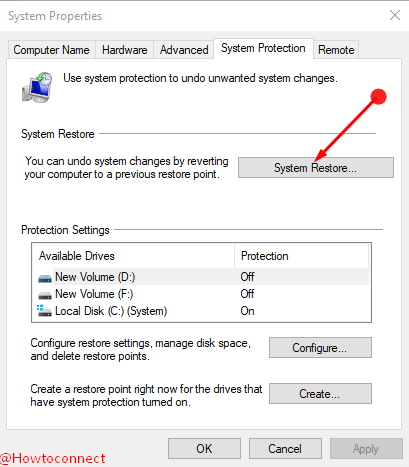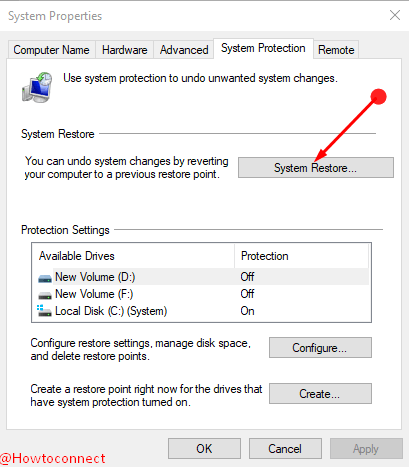 Step-4: Follow the onscreen instructions, lastly click on Finish in order to finish the process and restart your PC.
Way-5: Run an Automatic Repair
Step-1: Launch the Bootable installation media and boot the Windows from here. Proceeding forward, click on the option Repair your Computer.
Step-2: From the list, click on the option Troubleshoot. Go to Advanced options and select Automatic Repair.
Step-3: This repair will consume time so be patient and wait for the repair to be finished successfully. Restart your computer when the repair is finished.
Thus the most annoying Error Status 0xc00012f Windows 10 bad image is expected to be fixed by this time. Cheer up.
Way-6: Check if pending Windows update
Many times, fresh Windows update fixes whatever issues you are presently encountering. So follow part – 3 to reach Update & security screen and click on Check for updates.
If you are on Windows 11 go to Settings > Windows update and click on "Check for updates".
Finally, you can take help from software to resolve this issue. Since abundant of the applications advised by Google is not secure, hence you should use EaseUS Todo Backup Free – for backup of disk/partition, operating system, files, etc. This software will also help you in troubleshooting any error in Windows 10, system collapse, unpredictable messes, and reduce the risk of losing data as well. This software is very popular among the users and no skill is required to use this one.
It is very much nagging and repellent for a user to receive such type of error message time and again. Additionally, it becomes terribly intolerable when you can't open your desired programs from your computer normally. Probably the worries are over now. We will be discussing the solution right now which will stop the server from sending this annoying error message again.
We will resolve the Error Status 0xc00012f bad image flaw using following tools:
1) Settings
2) Windows 10 command prompt,
3) Windows 10 Automatic Repair.
Some of the causes are:
a) Misconfiguration in the system settings
b) Corrupted entries in registry
c) Obsessive startup programs
d) Fragmented files
e) Deletion of critical program files
f) Infection caused by malicious invaders.
Not only these six but also some similar reasons can cause the Error Status 0xc00012f Windows 10. Users started complaining about this issue from the era of Windows 7 but didn't have a perfect solution. Moreover, the users of Windows 8 had the same problem too. Recently tech masters have come up with the solution of Error Status 0xc00012f windows 10 which is probably the most feasible one.
Conclusion
So these are the simple and promising methods to fix Error Status 0xc00012f Windows 10. Read the steps properly and use these in proper places. This will hopefully relieve you from the troublesome bad image error.
Methods:
Way-1: Uninstall the Culprit Program
Way-2: Run SFC or Scannow
Way-3: Uninstall Windows update
Way-4: Use System Restore
Way-5: Run an Automatic Repair
Way-6: Check if pending Windows update
Repair any Windows problems such as Blue/Black Screen, DLL, Exe, application, Regisrty error and quickly recover system from issues using
Reimage
.