Eventy is a free app of windows 8 using which you may explore for any events occurring in your near-by. It helps you in choosing the most popular and exciting events coming in the near future. This app is a kind of social event searching App giving you the specific details on different events. This new App of windows 8 is based on Eventbrite Event database.
The design of the interface of this App is very attractive and colored. The different look of this app will surprise you the most. It will fill a mixture of colors in your heart once you opened this app. Again, as this app consists of events comprising from different sections like music, business, nightlife, social, and many others it allows you to have an eye on any event from any section you like the most.
You can have the access to this app form the Windows 8 App store or you could just follow the link provided in this article at the last.
How to make your own interface on Eventy app
When you open the eventy App from your windows machine after the installation, a window will pop-up in front of you. Here, you will find two options present asking for your response.
Connect to Eventbrite: This is the first option asking you to have your own account. However, this is not compulsory to have an Eventbrite account. But if you have an account at this app, you could be able to see your own personal Eventbrite events. Having an account at this website is really cool and nice experience.
Dive Right Now: This is the second choice. When you click on this app, it will open you a list of different events. Here you have to select the category from which you want to know the details. A screenshot of this is shown below:
How to use Eventy App
In the above screenshot, you can select from the various events present in-front of you. Here, you can select your own personal categories which you will look at the next time you came back. Selecting a list of categories and saving it makes a new interface for you which are consisting of your favorite categories of which events you like the most. Below, shown is a screenshot.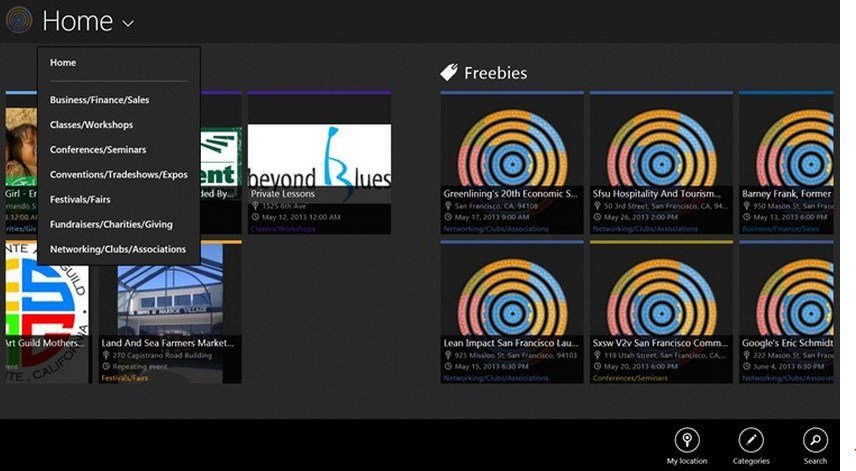 You can see a collection of different events in the above screenshot. If you want to look after any event, just click on any event and there you are getting all the possible details about the event, its time of opening, the exact date of happening, and the place where it is supposed to occur.
You can look for the beautiful and amazing pictures of the event when you click on any event. In the above screenshot, you can see an option of Home. There is a drop-down box menu just side to it accessing which you can see a selection of different categories that are selected by at the start.
If you are willing to know about any particular event, all you have to do is to do go the drop-down box menu of Home, select the category and then select the event which you are thinking to visit. This app is really full of fun and excitement.
Key Features of Eventy App
This app is completely free and very easy to use.
It consists of a separate section that provides you the details of free events.
It helps you in searching the most popular events nearby.
It provides you a list of categories pre-selected by you using which you can narrow down the most popular-.
You can search for various events in a quite astonishing way. Searching on any specific thing like the place, time, date makes it more adorable.  

Conclusion
Eventy is a cool and very nice app of windows 8 which lets you access the most popular events which are occurring in your neighborhood. Using this new App of windows 8, you could be attached to any event just by searching for any event. On this App, you could sort for any event just by typing the exact Time, Date, or place whenever you feel ready for it. Again, as it does not require any money for searching inside, it makes it a wonderful app. This app fills anyone with thrills and excitement who loves to see pic of any event.  As different things in this app are arranged in a very suitable and flexible way, it saves a lot of time of yours. You can download this app on your windows machine from the below provided link:
Download Link: Eventy